Please note that this post may contain affiliate links and any sales made through such links will reward us a small commission – at no extra cost for you.
When most people think of airports they think of feeling gross and being tired and stressed out. Me? I always think of excitement. Because if I'm in an airport that means I'm going somewhere! And who can resist a time to show off some airport outfit game? Airport style is totally a thing and there are ways to nail that "chic but comfy" look. So here are 4 no-fail airport outfit combos inspired by the queen of airport style, Rosie Huntington-Whiteley, model, and actress.
4 No Fail Airport Outfit Combos
1. skinny jeans + tee + blazer + flats + tote + oversized sunglasses
Most people shy away from jeans at the airport, but you shouldn't! Jeans will almost always look more elevated than leggings, sweats, or yoga pants. Plus, there are plenty of comfortable and stretchy jeans out there.

Flats are for comfort and practicality. Easy to slip on and off because who has time to deal with a ton of zippers or laces?

Throw on a blazer in a moveable material for that extra dose of class. A tote bag is a must-have for traveling too! Stuff a cashmere scarf in there to pull out later when you need warmth or a makeshift pillow.
2. skinny jeans + tee + peacoat + booties
Though I wouldn't wear heels to the airport and I don't think it's very practical for us "regular" folk, you can always switch out heels for flats or booties. Remember that your outfit is never complete without a gorgeous pair of oversized sunglasses and an oversized tote!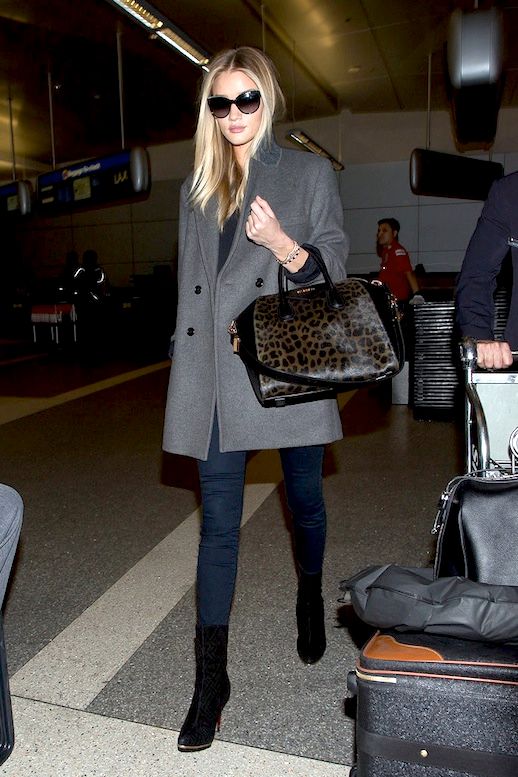 3. tee + cardigan + scarf + hat + tote + sunglasses + booties
Cozy layers are what makes your outfit chic but casual. A large yet lightweight scarf is perfect for wrapping around your neck without taking up too much luggage space. Having a bad hair day? Did trying to sleep on an airplane make your hair all frizzy? Hide it all under a hat. Everyone will think you're just being super stylish!
4. track pants + tee + blazer + large bag + flats + sunglasses
It's great how adding a blazer to any outfit instantly makes you look chicer. Take comfy track or workout pants for example. Add a neutral tee, blazer, black sunglasses, and stylish bag, and you look like someone with amazing airport style!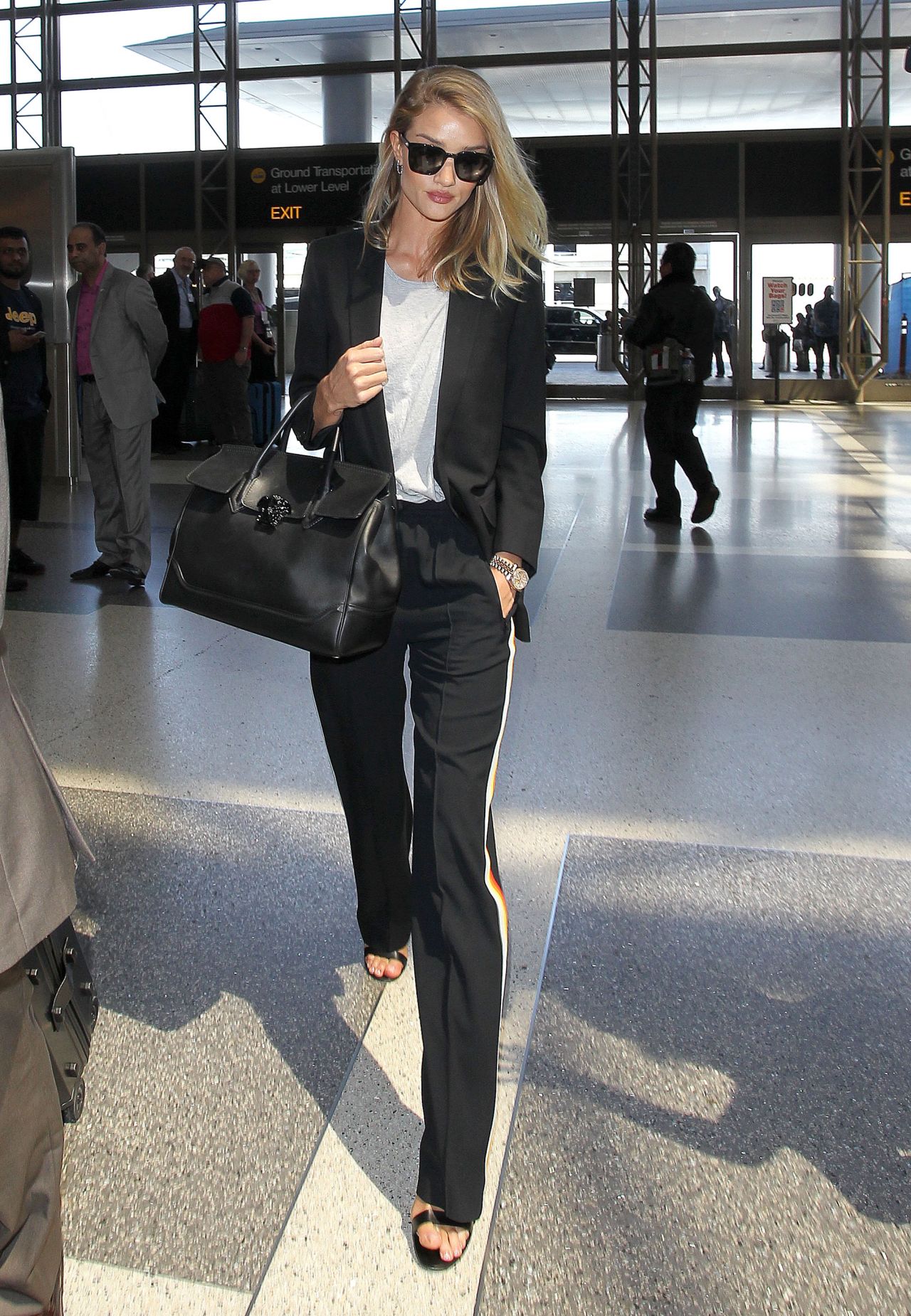 By analyzing her airport outfit combos we were able to come up with a lot of the same elements that make this type of style work. When in doubt, stick to skinny jeans, a simple tee, some sort of outerwear (cardigan, bomber, blazer), and accessories (hat, tote, sunglasses). You'll look be looking like an off-duty model in no time!
Looking for more ways to dress like a model? Then you'll love the post below!
9 Outfits to Copy if You Want to Dress Like a Model
7 Model Off Duty Looks You Can Master Now