With each year comes each new fashion trend. Some are fun, cool, and even inventive…but some are also just weird.
While I'm not one that thinks I'm above the trends (I definitely jumped on the OTK boots and off-the-shoulder tops), I try to keep my own personal style throughout it all.
Here are some trends I couldn't get into in 2016 and I'm okay if they don't make it to 2017:
1. Perspex (in my mind, shoes made out of a clear, raincoat-y material)
This is an interesting idea and I wonder where it all started (Kanye made a big debut in his fashion show). I bet it had to do with celebrities with their perfect pedicured feet and they wanted a way to show off more than just their pretty painted toes. I for one would not look good in this type of shoe because my feet are not pretty. Dry, crocodile feet anyone?
However, I do like the shoes that have just a clear material on the side of the shoe. Something about that is very chic to me and I could see myself wearing that in 2017.
2. Embellished Denim
Something about this is a little 5-year-old-bedazzled my clothes to me, so I couldn't get on this train. 
However, there is a different kind of embellished denim where instead of animal patches, it's sparkles. And I could get on that.
3. Flatforms
Really they're just ginormous shoes…and I hate to say it…but clown feet.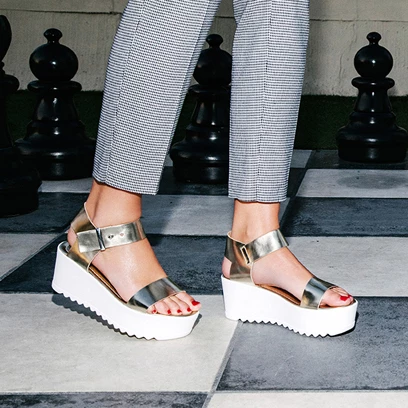 4. Brows on fleek
Last year I fit in with the "natural, bushy" brow and this year my brows were definitely not "on fleek". I tried to groom and fill in my own brows once and it looked like I just painted a black bush on my eyebrows. Maybe just for lack of talent, but I'll be glad if we can leave this one behind!
5. Contouring
I love makeup and wearing it, even though I'm not very good at it. Contouring totally changed the expectation of what we should look like when doing our makeup in the morning. Yeah, it can be fun to try out, but if you look like a completely different person when you take it off, then it's too much. Plus, that just looks like a lot of work. Let's make the beauty expectations of 2017 to be what you already look like!

Everyone has their own opinion and these are just mine. What do you think about this list? Would you love it or leave it?
(all photos via Google)