Please note that this post may contain affiliate links and any sales made through such links will reward us a small commission – at no extra cost for you.
It's true what they say, kitchens are the heart of the home. Whether you love to cook or just cook enough to get by, everybody needs a kitchen and since you're in there so much, you might as well have one that suits your style! But oh, there are so many interior styles. How do you know which one you like and if you're doing it correctly?
A while ago I did a post about the differences between some key home styles (French Country included) and it sparked a lot of great conversation about what's real, what's not, and what do people actually think they like? I'm taking that post a step further and diving into something that is so widely misconstrued: the French Country Kitchen.
How to Get an Authentic French Country Kitchen
Just a couple disclaimers here. I'm doing my research before I put a post like this together, but I am not the expert nor do I claim to be. I'm big on saying my kitchen is French Country inspired because I know it's Americanized and not 100% the real thing!
Before we get into what authentic French Country kitchens are, we'll have to start with what they're not.

Take the below pictures as examples of what most Americans think French Country kitchens are.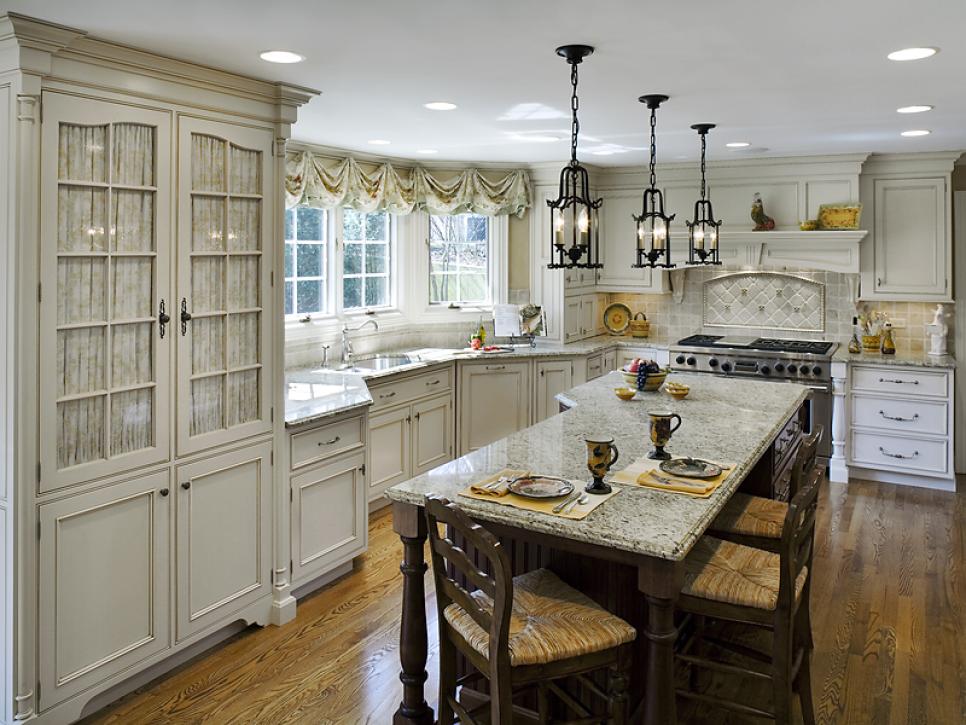 What do you see?

Glazed cabinets. Granite countertops. Intricate molding. Cabinet after cabinet after cabinet. Huge kitchen islands.

Though these kitchens look expensive and grand (and there's nothing wrong if this is what you like), they're far from authentic. And as we look at pictures of what is authentic, you will see why.
FYI, this blog post from Laurel Bern goes into phony french country kitchens even more.
Just so you know, I pulled the below pictures from French real estate sites & Airbnb so we can find the similarities of "real" kitchens, not Americanized ones. These homes are being sold in the country.
Let's check them out!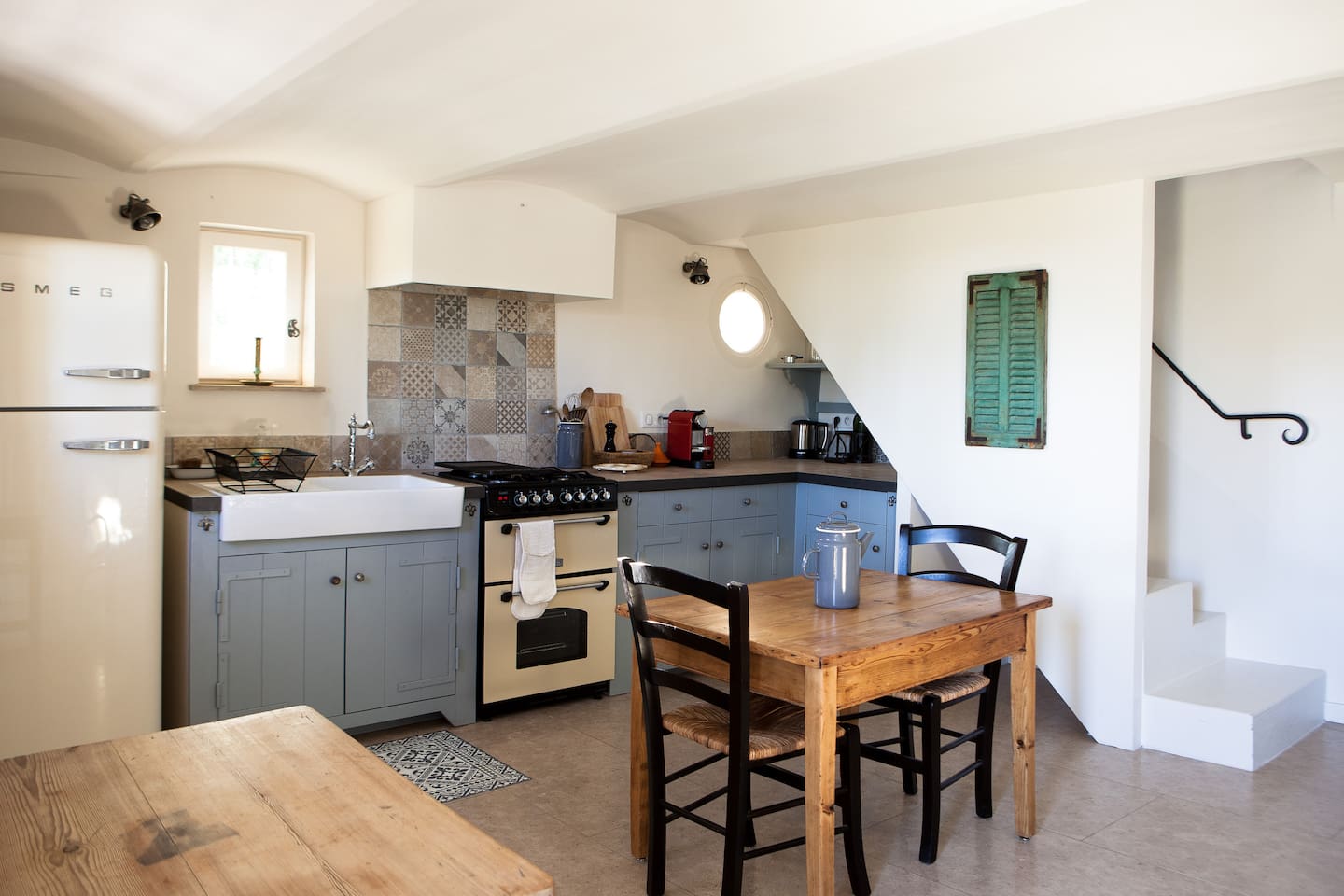 Above you'll notice vintage appliances, a farmhouse sink, pretty basic cabinets, and no kitchen island or upper cabinets. You'll also notice the lower cabinets are painted blue, not white or glazed. A kitchen table takes the place of an island.
Above you'll also notice that there are no upper cabinets and no kitchen island. The lower cabinets are a blueish color instead of white. This kitchen also has great stonework, awesome beams, and a cabinet for easy access to dishes. A dining table rests in the center of the kitchen.
Above you'll notice that there actually are white cabinets this time and upper cabinets, though some doors are left off for easy access. Once again, no kitchen island, and instead, a dining table takes its place. This kitchen feels homey, not grand, with the brick fireplace and tile floors.
Above you'll see this kitchen has quite a bit a color compared to the other photos, but there are lots of similarities as well. You'll notice the fireplace, china cabinet, beams, painted cabinets, and lack of upper cabinets as well. You'll also notice lots of plates and dishes are on display.
Above you'll notice the table in the kitchen, farmhouse sink, mix of countertops, tile floors, and lack of upper cabinets. Also, how beautiful is that French range?
Above you'll find hanging copper pots, natural brick elements, open shelving for glasses, tile floors, no upper cabinets, and once again, a table in the kitchen.
For the next couple of photos, you'll probably notice by now lots of the same similarities, such as a fireplace, beams, big dining table, tile floors, wood cabinets, and elements of open shelving.
My last example has to be pictures of Mimi Thorisson's kitchen. She's a French cook and author who has written books on French Country cooking. I can't think of anyone more qualified to take a peek in their kitchen!
Mimi's kitchen is a more styled version perhaps but it sums up everything we've seen in the photos so far: tile floors, stonework, big kitchen for dining instead of an island, hanging copper pots, fireplace, little to no cabinets, and lots of earthy, warm tones instead of white, white, white.
Farmhouse kitchens and French kitchens in the country are workhorses of the home. Not everything is pure, white, and fancy, and it gives off a feeling of homeyness, rather than grandness. It celebrates a simple, yet a full type of life. Most Americans may find this kitchen style to be darker and rougher than what they like. But the kitchen is designed to be used and cooked in, all the while withstanding the country elements.
To be fair, I'm not out here saying that everyone needs to change their kitchen to what is authentic. Sometimes it's just good to know what it is. Though I love the style, I don't think everything translates super well here to America, especially for resale. At the end of the day you should definitely do what you want (it's your house after all), but I think most Americans would probably flip to see no upper cabinets because you know, "storage"!
Check out the graphic below (and pin it!) to see what elements you need to have an authentic French Country kitchen.
It's your turn now
Leave me a comment! Tell me what you think about this post and French Country kitchen styles in general. Do you think Americans are way off or there's room for interpretation?


Since you're here, you can see how I'm translating the look into my own kitchen renovation!