Please note that this post may contain affiliate links and any sales made through such links will reward us a small commission – at no extra cost for you.
In the professional interior design world, Hobby Lobby sometimes gets a bad rap for its "cheesy" and "vintage reproductions", but I love this store as much as the next home decor enthusiast. Fun fact: I used to work there as a teen!
Not only is the selection vast and the prices reasonable, but lately, Hobby Lobby has started to stray from the ever-so-popular-but-losing-steam-farmhouse-style and has ventured into designs that look like they could be sold at Anthropologie and Arhaus. Shopping here can give you the same look as higher-end stores all the while saving you hundreds- if not thousands!
However, though the selection is great, it doesn't mean everything you may potentially select is great. The right decor pieces from Hobby Lobby can make your home look cozy, full of character, and even a little high-end.
The wrong pieces could potentially make your home look like a carbon copy of everyone else. (Remember when that metal star was everywhere?)
To add character and style to your home, these are the things to get from Hobby Lobby and also what to avoid!
*Keep in mind that this is all just my personal opinion and the best type of home decor is the decor that you love, regardless of what anyone says or thinks.
1. What to Avoid: Obviously Distressed Picture Frames (Or Anything Else)
One of the best ways to add character to your home is with vintage and antique pieces. There's nothing quite like a distressed piece to make your home feel cozy and collected.
However, you want pieces that look like they tell a story- or ideally, actually do! (Well, not literally, but you know what I mean.)
When a decor item looks perfectly distressed (like this picture frame example), it takes away the authenticity and it's these items that look like reproductions of what's meant to be a type of vintage piece.
What to Get Instead: Wood Picture Frames
Wood has the same effect of a home exuding warmth without risking the cheesiness of an obviously distressed piece. (Though distressing isn't bad, it should just look organic.)
Places like Pottery Barn, West Elm, and Crate & Barrel fetch a pretty price for their wood frames, but you don't have to spend the high price tag at Hobby Lobby. Picture frames can be used as a stand-alone decor piece or incorporated into a gallery wall.
Regardless of your home style, wood frames can add to the character of your home, whether you lean towards a farmhouse, traditional, bohemian, or even eclectic look.
2. What to Avoid: (Some) Word Art
I know a lot of people that have word art in their homes and they make it work for their overall aesthetic, but generally, 1-2 phrase word art with simple sayings like "together" "live simply" or "kitchen" can come across as cheesy, commercialized, and reproduced.
If you love the idea of word art, try to find something that is more meaningful and personalized to you. No, this doesn't mean you have to have your last name plastered all over your house! Maybe it's wall art featuring different typography of your favorite city or a greeting in another language.
Related: What is French Country Style? | The Difference Between French Country, English Cottage, & Farmhouse Style
What to Get Instead: Oil (Inspired) Paintings
Vintage landscapes and oil paintings are having their moment, thanks to designers like Studio McGee using them all over their projects and even in unexpected places, like the kitchen.
These natural paintings of fruit, nature, and sometimes even people tend to be pricey. But if you're okay with the inspired version, you can easily find some beautiful budget-friendly options at Hobby Lobby. Place in any room that you want to add some character. Yes, even the kitchen or bathroom!
Whereas word wall art can look too trendy, paintings have been dated back as far as 42,000 years ago-when nomadic people drew in caves with charcoal. You can be sure that paintings that look natural will instantly add character to your home and never go out of style. And hey, if it's good enough for the cave dwellers then it's good enough for us!
3. What to Avoid: Overdone and Colorful Flower Arrangements
What do you do if you don't have a green thumb? Easy, you fake it. And that means strategically opting for faux flowers and greenery. When going faux, the more realistic the flower or plant the better.
"Funeral home" arrangements or too bold flowers can look cheesy and well, fake.
What to Get Instead: Dried Florals, Greenery, Natural-Looking Flowers
If you have a hard time keeping things alive, go with dried florals. They're already dead…ish!
But the main reason to choose dried florals and natural-looking greenery is that they can complement your space and add an organic and natural feel, instead of taking all the attention (in a bad way).
Natural looking flowers and plants add life, warmth, and style to a variety of home styles, whether you're going for Scandi or Parisian.
4. What to Avoid: Word Graphic Throw Pillows
Just like word signs, word graphic pillows have the potential to make your home look a little generic. Of course, be proud of whatever you have if you love it!
However, designers these days are using throw pillows in a variety of sizes, colors, and even prints (not words) for a look that is collected, homey, and stylish.
What to Get Instead: Natural, Neutral, and Classic Throw Pillows
Though throw pillows are worth it for the comfort and the way they can complete a space and tie it all together, they are notoriously expensive. Thankfully, you can get some budget-friendly options at Hobby Lobby.
Instead of going for the common word pillows, look at their other options, such as farmhouse-inspired grain sack, European style ticking, or traditional sage green stripes that can fit a variety of styles.
From checks to even velvet, pretty much all of their other pillows will be great options! For a look that oozes character, mix and match the prints for a look that is uniquely you.
Tip: Consider getting down feather inserts and buying covers separately if you're someone that likes to switch up your home decor quite often!
Related: Parisian Living Room Decor That Will Elevate Your Space
5. What to Avoid: Farmhouse Furniture
Now take this suggestion with a grain of salt (especially if you love farmhouse style), but Hobby Lobby takes farmhouse style a little too literally at times. Furniture that hits all the farmhouse notes (barn door, distressed, "X" paneling) is a little too exact.
For farmhouse style, you are better off having some of the characteristics and embodying the essence of this design choice instead of having it all in one piece.
What to Get Instead: Cane Furniture
Caning on furniture is really in right now, but it never really left. These organic materials never do! Not to mention cane weaving is an ancient craft.
Cane furniture style is very natural and simple. Though perhaps frequently seen more in beachy and boho spaces, this type of furniture can be the backdrop for different decor styles while also adding some interest and texture to your space.
6. What to Avoid: Letter Decor
Though there's nothing offensive about a letter of the alphabet (or any of these points by the way), the purpose of this post is to help you add character and style to your home, and filling up wall space with the alphabet can look a little generic.
What to Get Instead: Mirrors
#Lifehack-Get your mirrors at Hobby Lobby. With styles reminiscent of Anthropologie and Arhaus (and with price tags that aren't), you'll save hundreds of dollars.
And sure, though a mirror is "generic", the style it will add to your home isn't.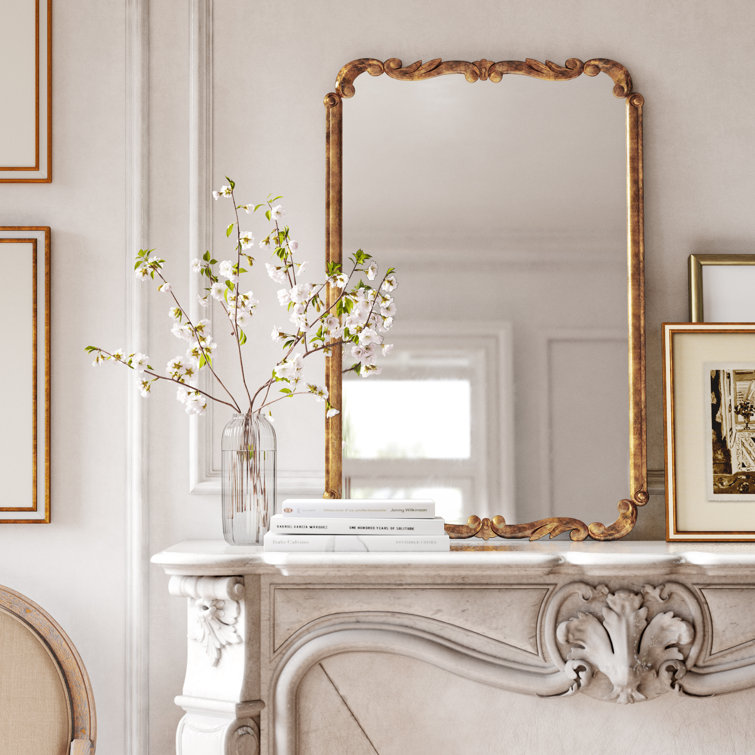 7. What to Avoid: Knick Knacks
Unless it's a very meaningful memento, knick knacks and tchotchkes just take up meaningful space. The word tchotchke itself is partly defined as "miscellanous".
Unless you have a strong attachment (I'd never say throw out something deeply personal), there are better things you can have that add style to your home!
What to Get Instead: Vases, Lanterns, Mini Lamps, Brass Candlesticks, Wicker Baskets, Knobs
Looking for small to medium items that can add style and character to your home? You have so many options!
Vases, especially in a neutral hue like amber or wood, are a practical decor piece. Not only can they look good by themselves on a shelf, but you can house your fresh flowers in them for the week too. Or better yet, your dried florals!
Borrow from European style and find a way to incorporate a lantern into your home. The end result is unique and collected.
Brass candlesticks and wicker baskets all add layer and interest to your home as well.
Have a basic furniture item? Jazz it up by switching out the hardware. There are so many fun options that can elevate it!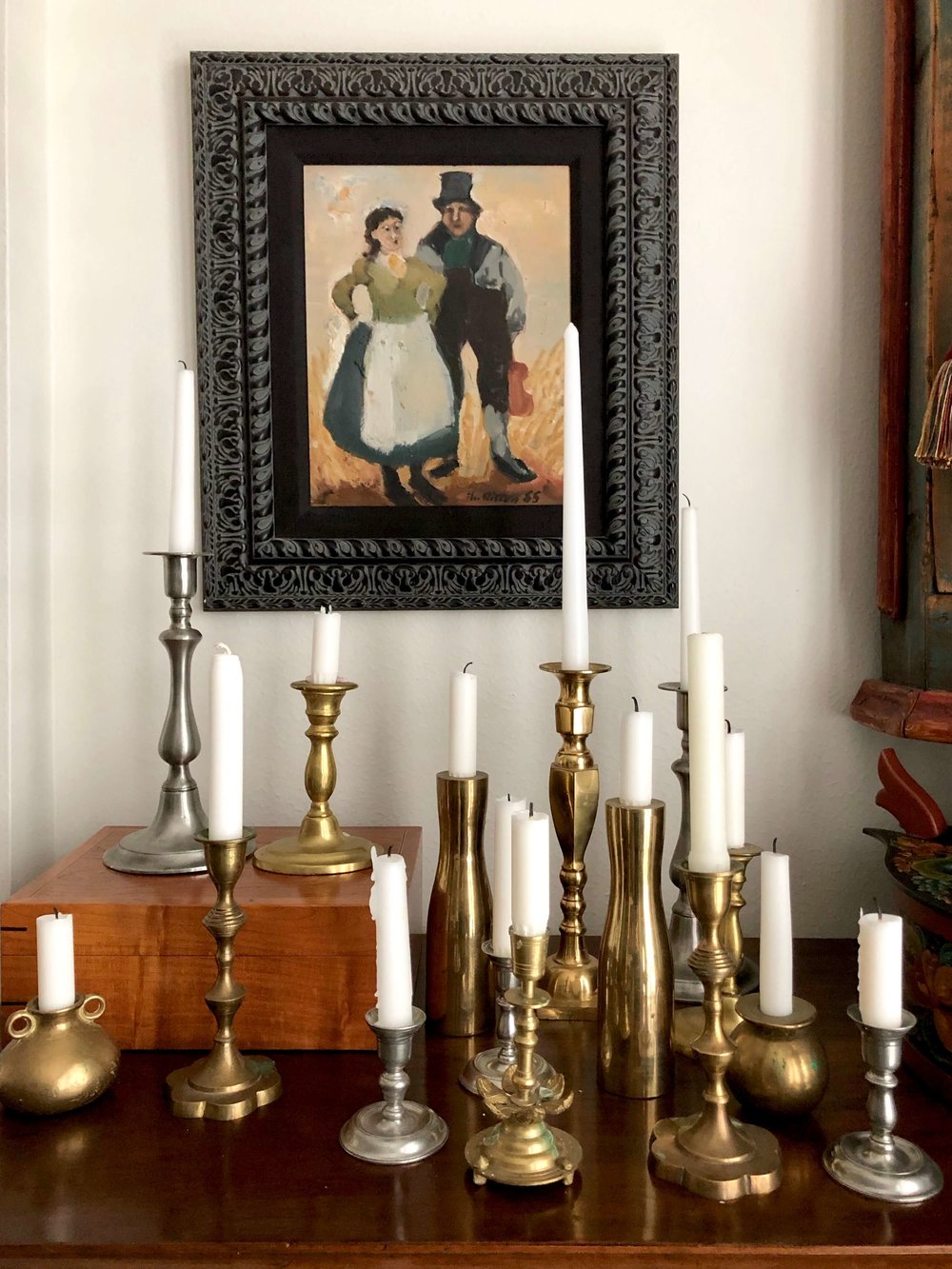 Not everyone has a high-end budget when decorating their home, but guess what? You don't need one! After all, what adds the most character and style to a home?
It's a collected look, which, taken literally, are pieces you collect over time that have meaning to you. From yard sales to vacations to Hobby Lobby and even supposedly high-end places like Rejuvenation (though my opinions on them are a whole other story), you can create the look you love on a budget you love.
For more tips on decorating your home on a budget, check out How I Gave My Bed a European High-End Look on a Budget!