Please note that this post may contain affiliate links and any sales made through such links will reward us a small commission – at no extra cost for you.
With an estimate that 25% of professional workers will work remotely by the end of 2023 (source), coupled with home-based businesses on the rise, offices are a necessity. But not just any office will do. Since statistics show women start more home businesses than men, an office that is inspiring, comfortable, and chic for women is a must! From Paris real estate listings to tours of high-end fashion offices, I searched high and low to find the best women's chic home office ideas as well as tips on how to make your very own home office have the vibe of fashion headquarters.
1. Hang Modern Art on the Walls
Modern art is a great option to decorate any work space, especially if you are going for a chic fashion vibe. And because art is such a personal thing, finding pieces that catch your eye and resonate with you is the perfect way to create a space you love.
Though you may not have the wall space for oversized pieces, even small spaces can benefit from well-sized artwork as the right pieces can add drama to a small home office.

2. Angle Your Desk
From Anna Wintour's office design (before she remodeled) to this Italian Vogue office space, simply angling your desk is a great way to command a high-end presence and make your home transform from "quaint home office" to "boss room".
If you don't have a lot of space to make your desk front and center, then simply put your executive desk or writing desk in the corner and angle it!

3. Inject Feminine Colors
This dusty rose color is the perfect way to inject femininity in a sophisticated and not "teen girl" way. Pastel colors and white is a grown-up color scheme and a good compromise from adding too many bright colors to liven up a space. If you want feminine home office ideas, take notes from this space.
Plus, how gorgeous is this natural light? If you have the opportunity to add floor-to-ceiling windows, take it! Natural light paired with a romantic paint color makes this one of the best feminine office design ideas.
4. Add an Oval Table for Meetings
Every fashion office has a communal area, meeting space, and work area. And though it'd be hard to fit all those areas in one home office or makeshift office in a living room, it's a lot easier to pick one extra seating area to add!
Your desk is your work area, of course, but by adding a small oval table and some chairs, you've instantly made an extra seating space to hold meetings or joint collaborative projects.

5. Recreate a Waiting Area
Every fashion office greets you with a waiting area, lobby, or reception. And though we may not all have a loft with 46,000 square feet to play with, we can still recreate this same look.
It can be as simple as a chair and table in the corner or two chairs opposite your desk. Or if you have the space, a couch or loveseat with a coffee table would be equally as nice.

6. Include Sophisticated Details
If you want home office design ideas that don't scream "cutesy women's home offices" or maybe you have to share an office with a dining room, then this cozy study den look is the office idea for you.
Channel a sophisticated and Parisian vibe with built-ins, Persian rugs, moldings, gilded frames, and easels for art. Filing cabinets get an instant upgrade when they're transformed into glass cabinets and the entire room feels welcoming yet high-end.

Related: Love the Parisian Apartment Aesthetic? Here Are 23 Dreamy Paris Apartments To Gather Inspiration From
7. Opt for a Dining Table as a Desk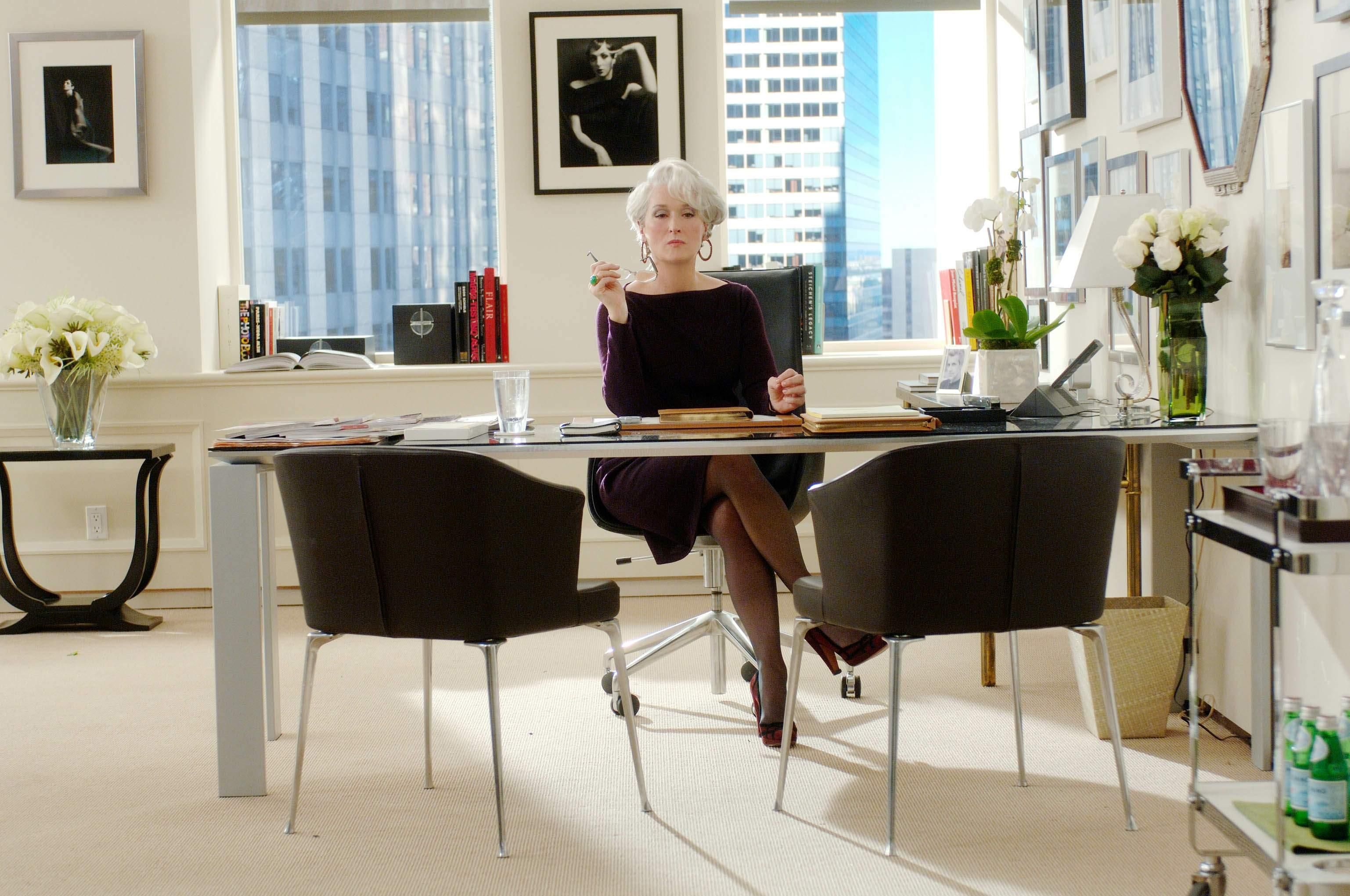 Did you know that your office desk doesn't actually have to be a desk? Using a dining table is a good idea if you want a room that has an executive vibe. And more table space!
To further get the look of female executive office decor, consider adding a bar cart with sparkling water (à la Miranda Priestly) and adding seating opposite your desk. (Even if you don't take meetings, it's all about the looks!)

8. Embrace Eclectic Design
The editor-in-chief at Teen Vogue has an office that looks less like fashion headquarters and more like a mishmash of her favorite things. If you resonate with an eclectic style, take notes from the stacks of books, scattered personal belongings, and the separate cart for the laptop. All are balanced out with white walls, flooring, and drapes.
And for a contemporary design, choose modern home office furniture, such as an acrylic desk chair, a white table with clean lines, and chrome light fixtures.

9. DIY Custom Canvas Art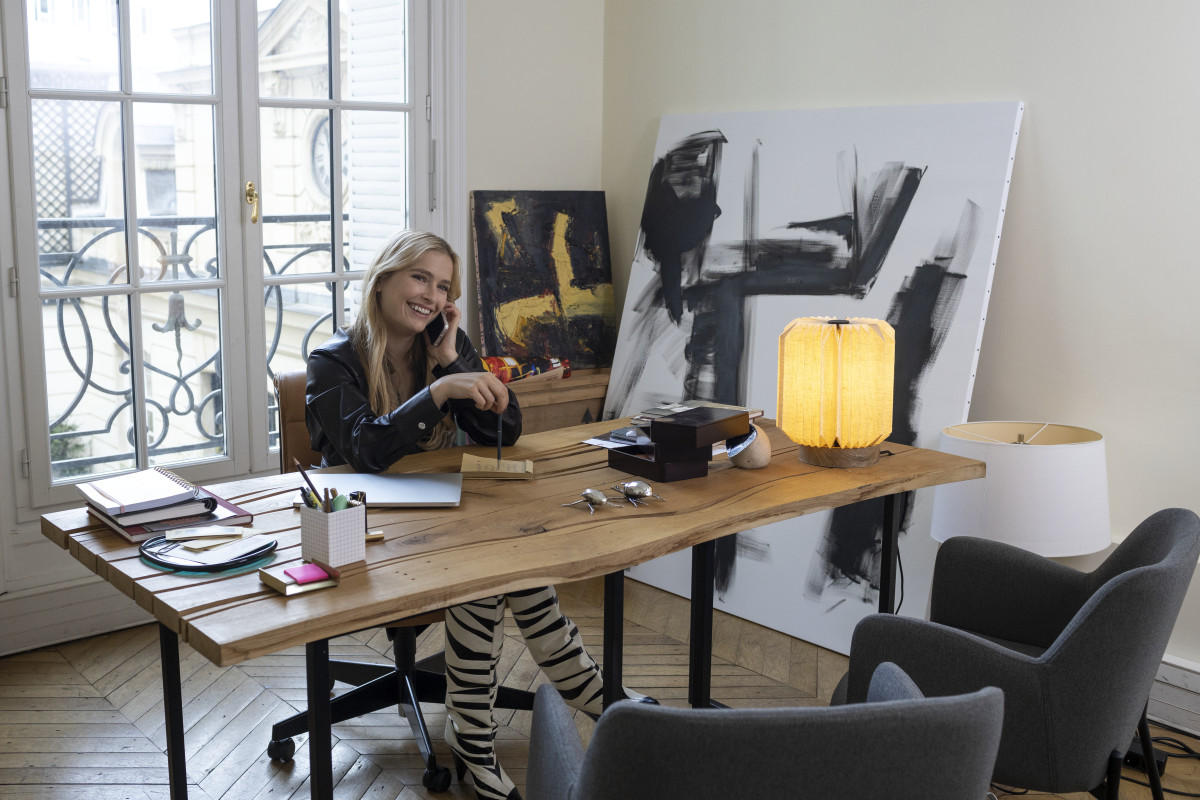 Camille's office from Emily in Paris hits all the right notes-beautiful wood flooring and a live edge rustic desk balanced out with simple chairs and chic oversized artwork. It's the perfect mix of fashionable yet warm.
Purchasing large art like this would get very costly, so why not try recreating it? Practice your hand with some smaller canvases and black paint and work your way up to creating your own large, custom piece that would rival any art gallery.

10. Add a Large Bouquet of Fresh Flowers
A high-end office building or lobby tends to have a fresh bouquet of flowers in its reception area. This is a nice touch and one you can easily recreate in your home office, even with little space.
Simply add a vase of fresh (or faux) flowers to your desk or even a small pedestal table in the corner of your room. Also, take note of these soft feminine colors for a home office space that exudes warmth. If you're in the middle of a renovation and have the option to add large windows, do it!

11. Include Lighting in Your Workspace
In small areas, you may try to cut out things to make your room feel bigger, but all work areas will benefit from extra lighting. Not only is proper lighting necessary so your eyes don't strain, but this is a great way to inject some style into your space as well!
You don't have to be stuck with the traditional gooseneck study lamp either. From modern to classy, there are so many stylish options to complement your space, even some with charging capabilities.

12. Put up a Gallery Wall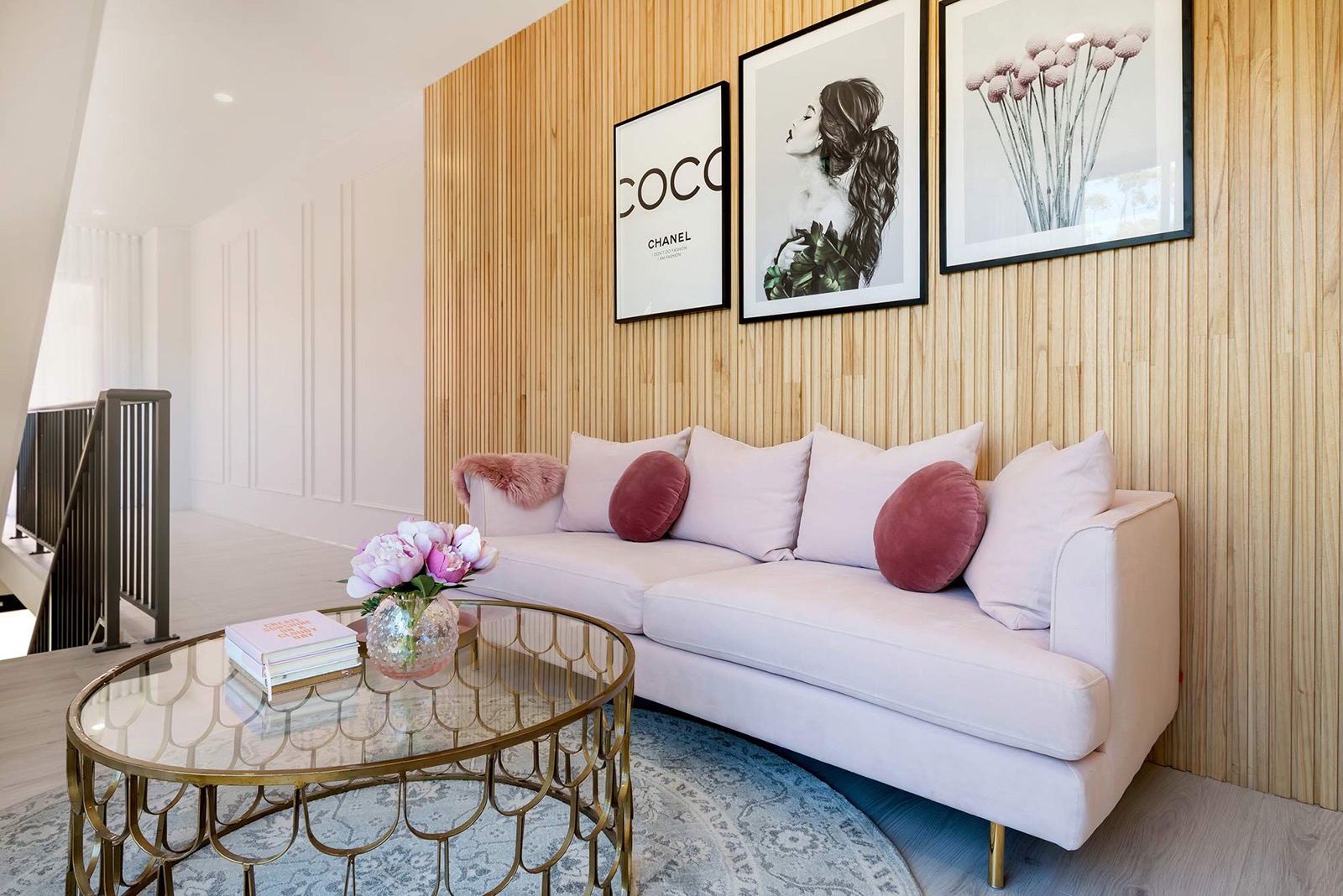 It seems like most creative spaces have gallery walls and good news, it's not hard to copy the look. Adding a gallery wall is an easy way to add personalization to your space. The gallery wall can be as small or large as you want; it can be a small area with 3-5 frames if you have very little room or be an entire accent wall with 5+ pictures.
There are so many different styles of gallery walls, from black picture frames filled with fashion artwork or small brass picture frames showcasing vintage prints, however you design your wall, it's a good idea to pick art that inspires you.

13. Get a Custom Business Name Sign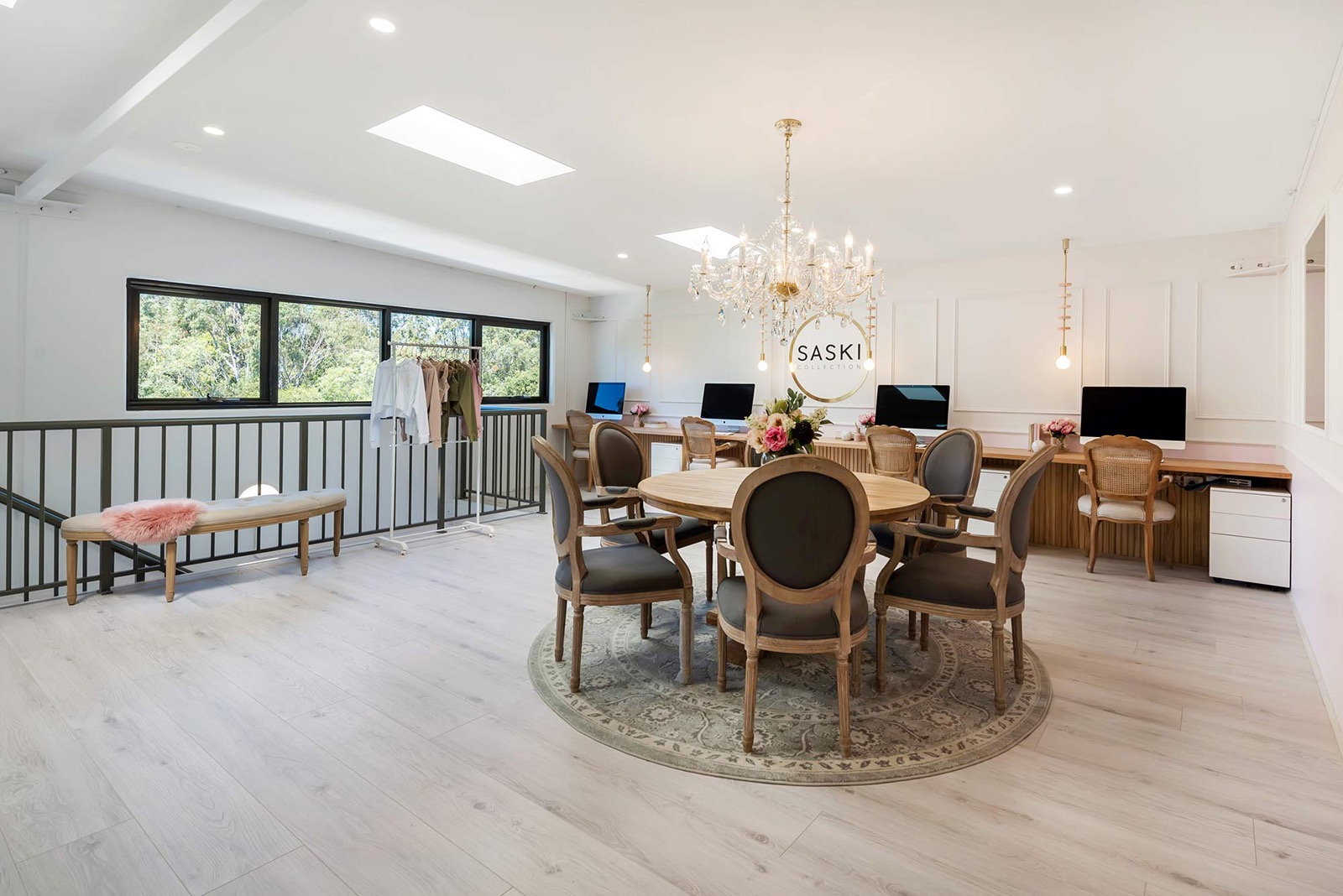 If you own your own business, one of the best home office ideas is having a custom sign for your business. Not only is this one of the best ways to transform your work area into a customized and personalized space, but it will make you feel legit and professional, therefore boosting confidence as you "head to work" for the day!

14. Create a Showroom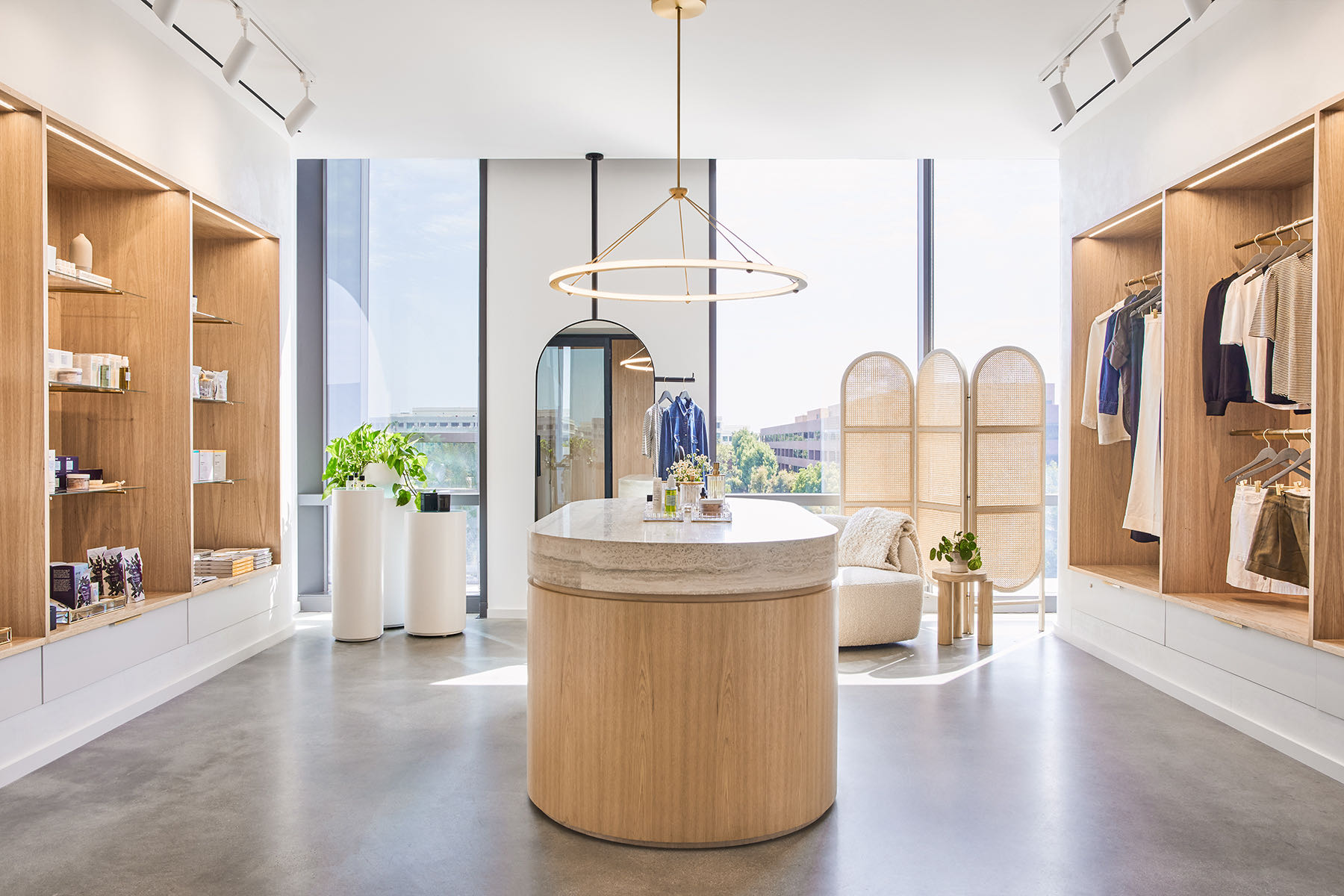 One thing that almost all fashion headquarters have in common is a showroom or stock closet. Depending on your business or line of work, it can be a great idea to create your own mini showroom.
Whether it's shelves for beauty products, clothing racks for clothes, or a bookcase for your crafts, creating your own showroom can elevate your space and be a great way to showcase your products to family and friends.
15. Use Pin Boards as Art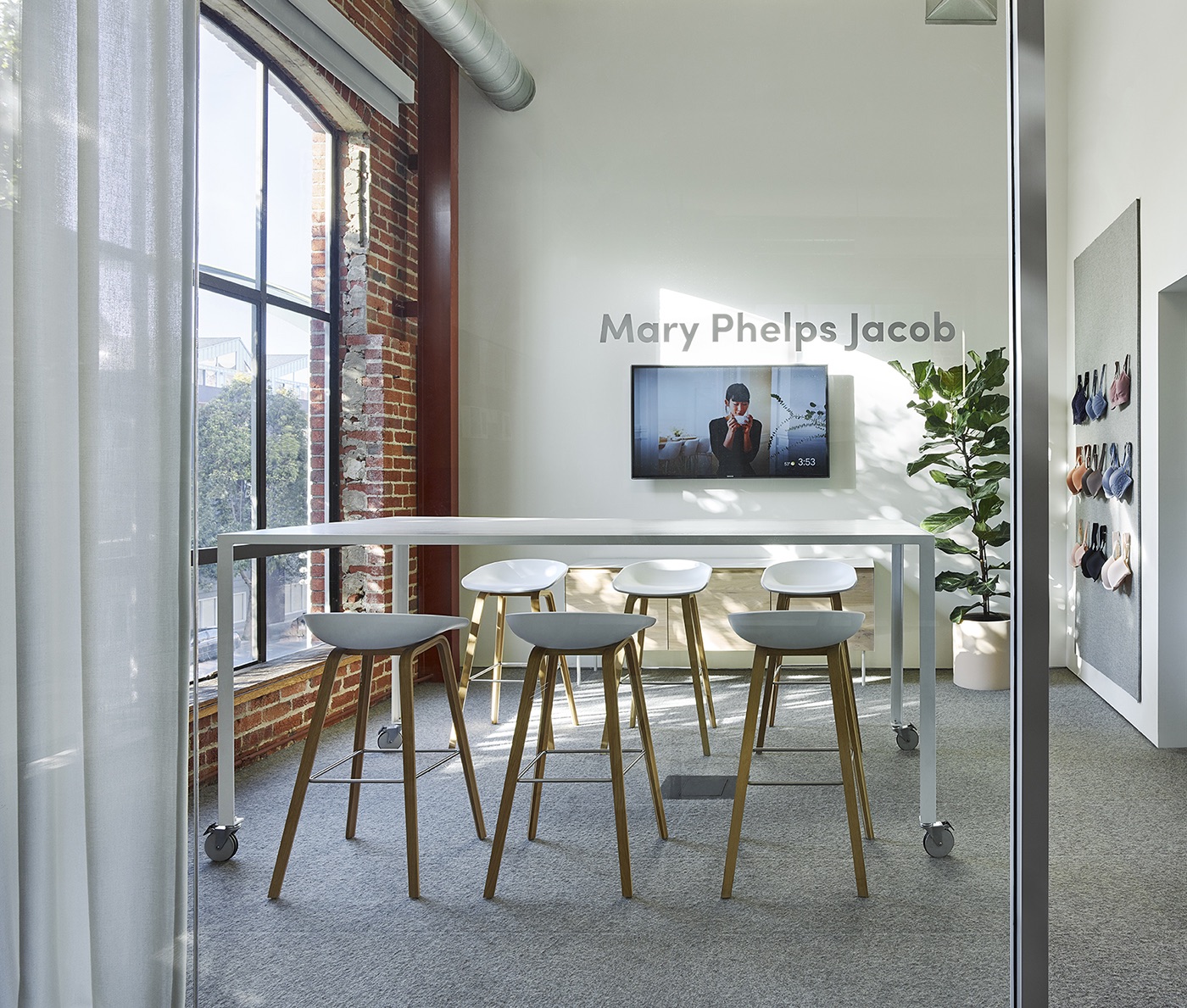 DIYing your own pinboards is not only a fun and easy project to do, but pinboards are something a lot of fashion brands incorporate as well. You could purchase them, but creating them yourself allows you to pick the right size and color for your space.
Whether it's to highlight products or to have a tangible mood board, you can create one in less than 10 minutes following this tutorial from Eyeswoon.
Investing in your home office is never wasted time or money. A space that is comfortable, chic, and inspiring will pay you back with years of productivity!
To get a peek into my current office situation, check out this post: My Rental Office & Closet Tour + How I'm Organizing My Clothes With Little to No Storage