Please note that this post may contain affiliate links and any sales made through such links will reward us a small commission – at no extra cost for you.
If there's one group of people who know how to do fashion, it's the French. Home to brands like Louis Vuitton, Chanel, and Hermès, France is known as one of the most dominant fashion epicenters of the world, and for good reason. So how do you emulate the classic french style clothing look? Here are a few key pieces (as well as helpful fashion tips!) you need to add to your wardrobe collection to do this successfully and stylishly!
How to Nail a Classic French Style Clothing Look
1. Simple gold jewelry pieces
Pendant necklaces and classic hoops are items you'll find in almost every French woman's wardrobe. Oversized, statement jewelry is usually not the norm for a French woman, as they prefer to accessorize subtly. These pieces are extremely versatile and worth investing in because you'll wear them again and again throughout all seasons!

Sézane, a French brand, makes high-quality pieces and they are a perfect place to start if you're looking to invest in your staple pieces. Shop French, look French! These 9k gold pendant necklaces can be personalized and have been hammered by hand in Italy. These gold hoops are simply chic.

Throw on your gold hoops or gold necklace for that perfect finishing touch to your outfit, whether it's with a sweater in fall, a graphic tee in spring, or a white blouse in summer.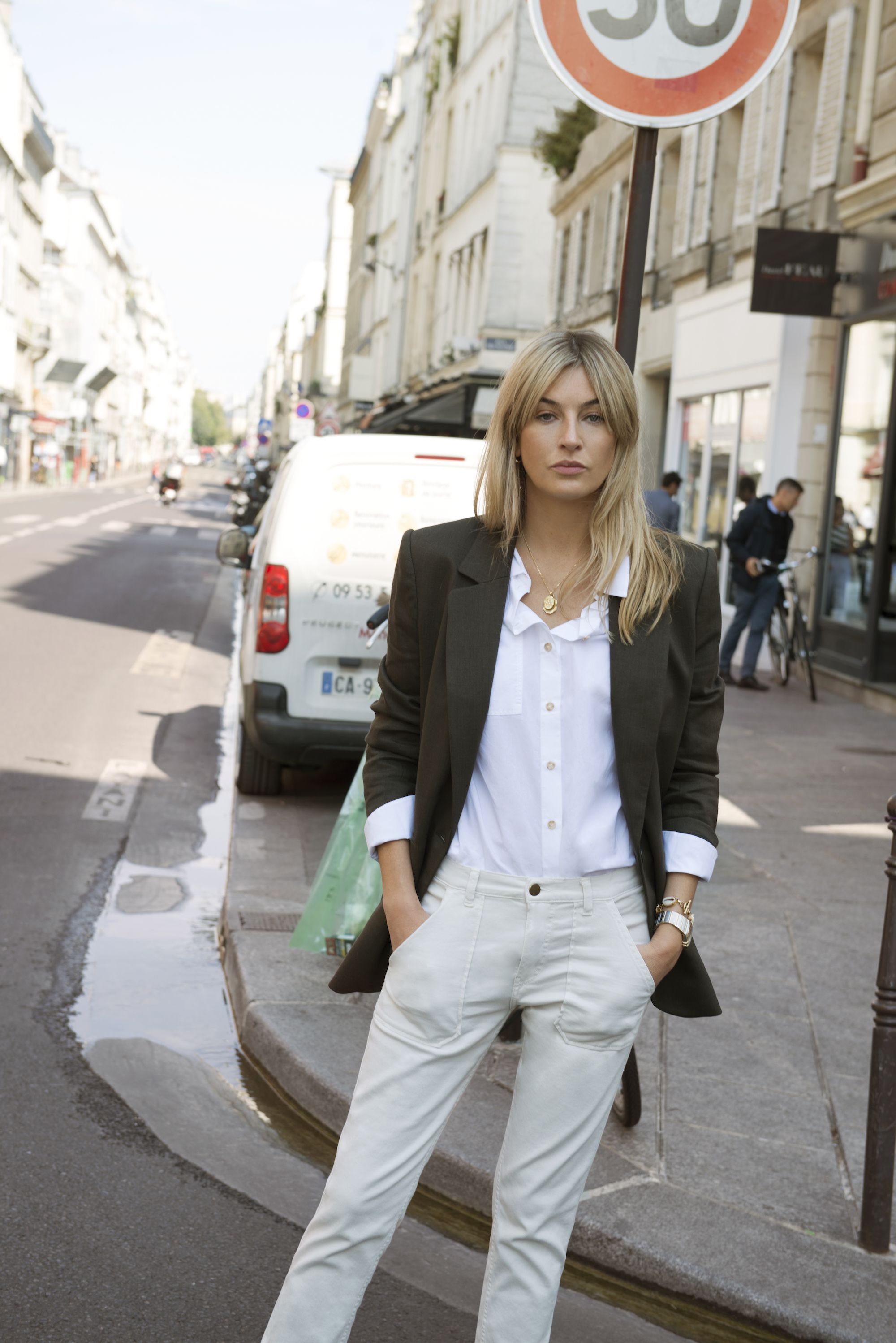 2. Aim for perfectly undone
Keep things perfectly messy. Meaning? Don't try to look perfect! A pristine pressed shirt, makeup perfectly contoured, and hair so slick and smooth that makes you look unapproachable is not the goal. Embrace tousled hair, a few flyaways, an oversized shirt, and jeans not perfectly cuffed. You want to look good without trying too hard. Stylish without looking like you spent hours on your appearance. That is the French way!
3. Add a beret hat to your wardrobe
Cliche? Perhaps. But you can't have a complete classic french style clothing look without a beret hat in your wardrobe! I especially love these hats because they're easy and adorable to style at any time of the year. In fall and winter, opt for a black or neutral-colored beret to wear with a long trench coat and boots. Once spring has sprung? Push your style boundaries with a light-colored or pastel beret, such as beige or pink, and pair it with your favorite dress. The options are truly endless!

If you want to take the styling a step further, try playing with different hairstyles to sport under the beret. You could try tying your hair into a low messy bun, twisting it into two braids that hang effortlessly out of your hat, or wearing your hair down with loose waves. It doesn't get more Parisian-inspired than that! Check out the Free People Du Jour Beret, which is available in three must-have neutrals.

4. Focus on good skincare
When you think of the French, it may be that fashion comes to mind and not beauty, but a good skincare routine is just as important to French women… if not more! After all, you only get one body and one face, and healthy skin is a big key to aging gracefully. And no, focusing on good skincare doesn't mean you have to have a 10 step skincare routine. Curious what a typical skincare routine is as well as products French women use? Read this post!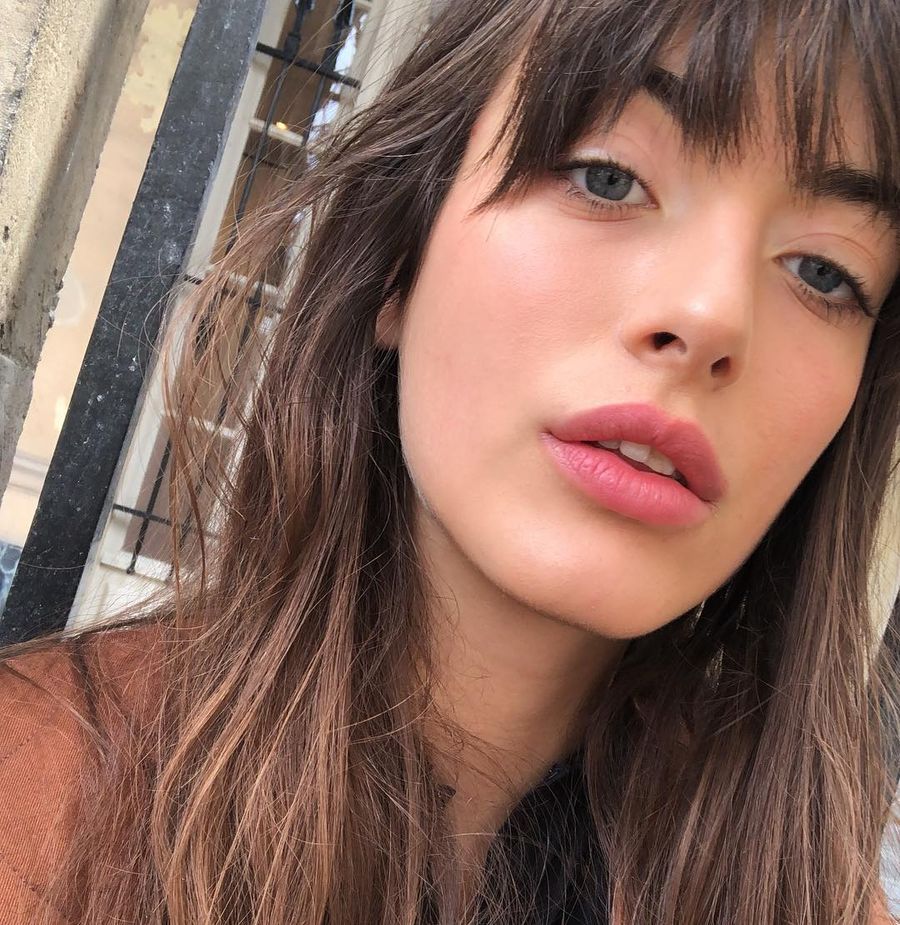 5. Fill your wardrobe up with neutrals
You'll tend to see bold colors, crazy prints, and tie-dye lounge sets way more in American than you would in France. To nail that classic french style clothing, it's a good idea to fill your wardrobe up with neutrals! Does this mean that French women never wear color? Non! Of course, I can't speak for every French woman on the planet, but when one does decide to wear a bold color, it's typically balanced out with neutrals to still achieve that bold yet tasteful look.
Related: The Ultimate Guide to French Fashion

6. Replace nude tights for black tights
You're not fooling anyone! Instead of trying to match your skin tone and make it appear as if you aren't wearing tights (it won't work by the way), just own the fact that you are and opt for opaque or barely there tights. It is way more alluring and stylish because nothing says French-inspired fashion like tights under a frock or even a pair of shorts. This paired with a pair of black heels, loafers, or clogs will totally complete your outfit of the day. While designer tights (like the infamous Gucci ones) are lovely and recognizable, you don't need to spend a fortune.

Even a quick browse on Amazon can have you accomplishing your goal of looking chic in tights. These Hanes Sheer Tights are very affordable with top control. For a pair of tights that are a little more luxurious and ultra-durable, opt for the Sheertex Unbreakable Sheer Tights. The material of these tights is totally run-proof, comfortable to wear, and reportedly the strongest tights in the world- guaranteed.
7. Wear a puff sleeve blouse in the warm weather
Another fashion staple for a classic French style clothing haul is a puff sleeve blouse. The whimsical silhouette will make you look like you just stepped out of a summer vacation in Nice, France! The puff sleeves add a head-turning dimension to any outfit and give off that totally posh vibe that the French know how to do oh so well. Whether you opt for a long-sleeve button-up or a cropped summer top, the puff sleeves can work for almost any occasion. These are typically paired with jeans, midi skirts, and mini skirts the most. Throw on some espadrilles and you're good to go.

So where can you find an adorable puff sleeve blouse that embodies the classic french style clothing ensemble? First, this Jonathan Simkhai Standard Thea Smocked Puff Sleeve Top is really cute. The unique neckline with a plunging cutout adds some sultry flair to this top, while the white color makes it simple to pair with any pants or skirts in your closet. For a more affordable option, try this H&M Puff-sleeved Smocked Blouse. Thirdly, check out the Free People Polka Puff Sleeve Blouse. Available in dusty blue or black-and-white, these polka dots will get your classic french style clothing inspired outfit on point.
Related: An Affordable Place to Shop to Dress Like a French Girl

8. Make sure your wardrobe has classic pieces
Tailored, timeless, and classic pieces are the building blocks to any classic French style wardrobe. Where to begin, where to begin? Well, for starters, you'll want to make sure you have great denim, neutral blazers, black pumps, classic sweaters, basic tops, and a killer pair of ankle boots.

Looking to put together a totally Parisian ensemble without spending all the time and effort it takes to get ready? Just mix and match those aforementioned pieces! Pair your classic sweater with your great denim, your neutral blazer, and your killer pair of ankle boots, and your classic French style clothing look of the day is ready to go.

Wondering what else makes up a French wardrobe? Don't worry, I won't leave you guessing! Get a FREE shopping list to build your French-inspired wardrobe by filling out the form below!

9. Mix soft and structured pieces
A stylish French woman is a master at wearing the clothes and not letting them wear her. One way to do that is to mix different fashion styles, such as soft and structured. You'll achieve a classy and chic look when pairing a satin cami with a blazer or flowy pants with a killer jacket. Get creative!
Related: Minimalist French Capsule Wardrobe for Fall/Winter

10. All sizes are welcome
No push-up bras here! French women embrace their natural size, no matter how big or small. After all, nothing is more appealing than confidence, right? If you find yourself on the smaller end, instead of trying to force your body to be something it's not, find some beautiful lacey bralettes and bras that make you feel confident and alluring. French women tend to tastefully leave a few buttons undone or wear a sheer shirt over a bralette as well.

Whether you keep it your little secret or not, this Aerie Real Power Balconette Lightly Lined Bra in "Soft Muslin" is very understated and cute. For a luxury option, check out the favorite luxury lingerie Italian brand, Cosabella. This Cosabella Never Say Never
Petite Sweetie Bralette in "Black" is a classic.

11. Put all the excessive logos away
France is known for its couture fashion houses, after all, so no, I'm not saying to never wear a logo, but you don't want to be excessive about it! I'm talking Chanel earrings, a Gucci graphic t-shirt, a Louis Vuitton bag, and Christian Louboutins all in one outfit. More times than not, an outfit like this says, "I'm trying to show off", and that is not the French way. First and foremost, buy a designer item because you like it, not because it's trending. And when you do wear a designer piece, try to stick to one designer for your outfit with minimal designer logos shown. You are not a walking billboard! Your focus is quality pieces and wearing them in a chic way, not trying to flaunt anything.

12. Find your signature something
Is it a fragrance? Lip color? The certain way you tie your scarf? What do people remember you by? How would your friends describe you? Are you the woman that always wears leopard print? The woman that can't leave the house unless she's wearing heels? The woman that always has a stack of gold bangles on? Find that thing that makes you you and own it!

Overall, these 12 clothing pieces and style tips are a necessary part of a classic French style clothing look, and you really can't go wrong with any of the ideas above. So say "oui oui!" to these must-have clothing items to complete your ideal French-inspired ensemble to create the classic french style clothing look we all know and love.
Want more French fashion? You're in luck. Up Next:
7 French Outfit Formulas You Can Copy