We as people seem to be so obsessed with French style (myself included) and what it is that makes them so effortlessly chic. While some things can never be truly copied, you do start to notice a pattern and formula that the French stick to that gives off their uncomplicated stylish vibes. Interested in learning the secrets of French style? Read on!
8 French Style Secrets
1. Pare down…less is more
An outfit doesn't have to be complicated to be stylish. Just wear skinny jeans, flats, a plain tee, and a blazer. Boom you're done. You'll notice a theme here that less is more! Related: 7 French Outfit Formulas You Can Copy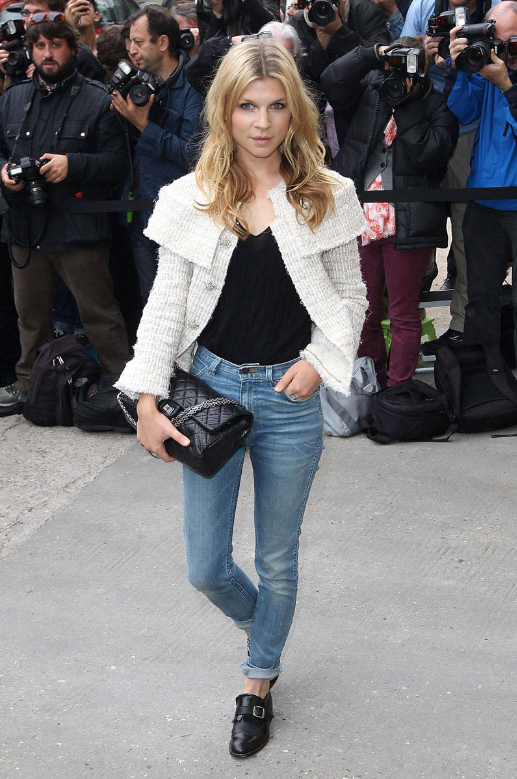 shop similar outfit: jacket | shoes | bag
2. Embrace flats
Not very often would you see a French woman teetering around in sky-high stilettos during the day. Instead think loafers, slides, and of course, ballet flats. Ankle boots come close as a favorite pair of shoes too!
shop similar outfit: purse | jeans | shoes

3. Minimalistic jewelry
Statement and eye-catching accessories are not really their thing. They tend to opt for a more subtle approach…especially when it's gold! Related: 9 French Girl Style Tips to Steal From the It Girls
shop similar outfit: necklace | top
4. Purposefully undone
French girls are all about looking polished, but every once in a while they'll either undo a couple buttons or go slightly untucked for a purposefully undone look. You never want to look like you're trying too hard! Related: French Girl Starter Wardrobe
shop similar outfit: shirt | pants | shoes
5. Simple colors
French women stick to a neutral palette and will bring in color through a bold lip or a scarf. It sure does make mixing and matching easier. Related: Easy French Styling Tips You Can Do Right Now
shop similar outfit: shirt | scarf
6. Classic prints
Is it a post on French style without mentioning stripes? There are tons of prints out there, and some being very eye-catching, but a chic french outfit would include a classic print such as stripes, dots, or checks. Related: 9 Must-Have French Girl Shoes
shop similar outfit: dress | coat
7. Have a go-to accessory
When accessorizing, less is definitely more. French women tend to stick to one item they wear over and over again that completes their look, such as a red lip, scarf, or classic bag.
shop similar outfit: coat | bag
8. Develop a signature look
Ultimately, French women care more about buying clothes they feel pretty in, and not what's necessarily the latest thing. It doesn't mean they never dip into the trends, they just have developed their own style aesthetic that they stick to and it's a good takeaway for us too!
Next up: The Ultimate Guide to French Fashion!
Share the love by sharing it on Pinterest! 🙂