Please note that this post may contain affiliate links and any sales made through such links will reward us a small commission – at no extra cost for you.
Many of us are obsessed with French style (myself included) and for good reason. What it is that makes them so effortlessly chic? While some things can never be truly copied, like that indescribable je ne sais quoi, you'll notice a pattern and formula that Parisian women stick to that make up their personal style and ever so coveted French look. It's not as easy as throwing on a striped tee, however. Interested in learning the secrets of French style? Read on!
8 French Girl Style Secrets
1. Pare down…less is more
In a world of trends, the latest It piece, and outlandish runway looks, many of us have forgotten it's the simple outfits that will last and always look good. Just remember that an outfit doesn't have to be complicated to be stylish!
Just wear skinny jeans, flats, a plain top (like a black or white tee), and a blazer. These classic pieces are found in every French girl's closet. One of the biggest French fashion secrets is that less is more! Focus on the timeless pieces and you'll have a personal style that compares to iconic French ladies such as Jane Birkin, Charlotte Gainsbourg, Brigitte Bardot, Francoise Hardy, Carine Roitfeld, and Isabel Marant.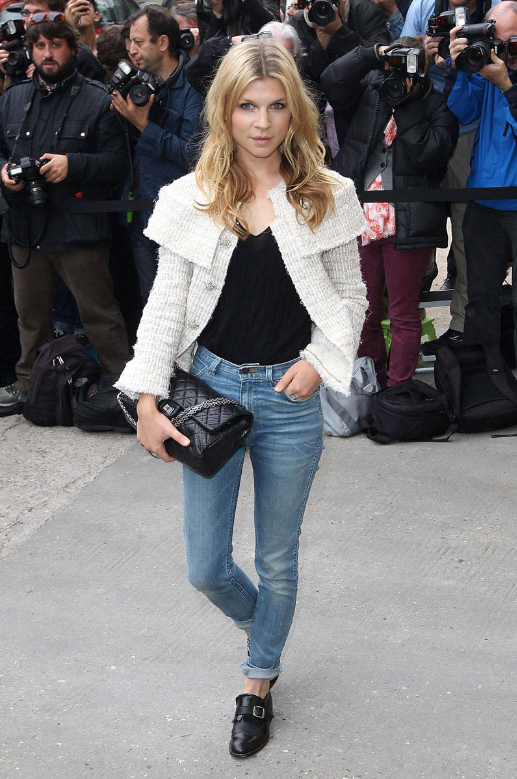 shop similar outfit: blazer | shoes | bag
2. Embrace flats
Typically, American women love their stilettos, but not very often would you see a French woman teetering around in high heels during the day. Pumps are a classic shoe choice to have in your wardrobe, but it's not the only way to look chic.
Embrace flats, such as loafers, slides, and of course, ballet flats. These shoes, especially when paired with a straight leg jean (perhaps vintage levis), are what set a Parisian woman apart.
To finish off your classic Parisian look, pair your flats and jeans with a white shirt. There are many different styles of jeans and a white blouse out there, so don't get too hung up on trying to find the perfect ones. Find one(s) in a chic style that you like and own it. After all, owning your signature style is the French way!
shop similar outfit: purse | jeans | shoes

3. Wear minimalistic jewelry over statement items
Parisian girls are not about being boring and love a unique twist every now and then, but statement and eye-catching accessories are usually not the go-to for a classic French look. You want to aim for the little things that create the look of effortless style.
A huge fake diamond statement necklace? Eh, not so much. But a gold pendant necklace, gold hoops, leather watch, and simple bracelets? Yes! Parisian fashion tends to opt for a more subtle approach…especially when it's gold!
And on that note, things such as flashy logos and "look at me, I'm wearing designer" don't typically have a place in a French woman's wardrobe either.
shop similar outfit: necklace | top
4. Aim for purposefully undone
French girls are all about looking polished, but every once in a while they'll either undo a couple of buttons or go slightly untucked for a purposefully undone look. You never want to look like you're trying too hard!
Embrace real life, your natural body shape, your slightly tousled hair, and your man's oversized blazer. Don't spend too much time in front of the mirror before heading out the door either. You don't need a perfectly contoured face or head-to-toe-pressed outfit to be chic!
shop similar outfit: shirt | pants | shoes
5. Fill your wardrobe with simple colors
French women tend to stick to a neutral palette and will bring in color through a bold lip or a scarf. It sure does make mixing and matching in your closet a lot easier! But if you're someone that likes boldness and color, you don't have to give that up in an effort to emulate French style. Bold red lipstick pairs perfectly with a little black dress!
As you fill your wardrobe with simple, neutral colors, don't overlook what pieces you're filling your wardrobe with. Classic wardrobe staples in neutral colors are what's going to turn your so-so wardrobe into a chic wardrobe! Some of these key pieces to get are a pencil skirt, silk shirt, black pants, wrap dress, black leather jacket, and classic beige trench coats. To get a full list of french wardrobe essentials, check out this post!
shop long trench coats here and here
6. Shop classic prints over statement prints
Is it a post on Parisian style without mentioning stripes? Specifically, black and white stripes! There are tons of prints out there, and some being very eye-catching, but a chic french outfit would include a classic print such as stripes, dots, checks, or leopard print. Yes, leopard print can be a French woman staple too!
Classic prints will always age better over trendy prints. Not to mention you'll get more wear out of your items too. So whether it's a striped top, a checked blazer, or a polka dot blouse, look for timeless prints while shopping and minimize the trendy ones.
7. Have a go-to accessory
As previously mentioned, when accessorizing, less is definitely more. But this applies to more than just your jewelry!
French women tend to stick to one item they wear over and over again that completes their look, such as a red lip, scarf, or classic bag. It's not always about the pieces of clothing you're wearing that create a look, sometimes the power is in the accessories you choose!
Take French girl Jeanne Damas below for example. She's wearing/doing all the things we've talked about in this post so far (no flashy logos, simple pieces, neutral colors with a bold lip), and no one could accuse this outfit as boring, especially with her choice of accessories such as her gold hoops and classic bucket bag in a beautiful color.
You'll frequently find her wearing gold jewelry or donning a red lip. And though she's not the originator of these things, they've now become part of her personal and signature style!
shop similar outfit: jacket/blazer | bag
8. Develop a signature look
Ultimately, French women care more about buying clothes they feel pretty in, and not what's necessarily the latest thing. It doesn't mean they never experiment with trends, they have just developed their own style aesthetic that they stick to and it's a good takeaway for us too!
We shouldn't add something to our own wardrobe unless we love it and/or could see ourselves wearing it for a long time, despite what the magazines say we should buy. At the end of the day, confidence in what you're wearing is what's going to be remembered.
As these French style secrets showed you, it's not always about throwing on a striped top to look French. Non, there's so much more than that! As you've heard it said before, it's not what you wear but how you wear it.
Still, it's no surprise that French love their quality pieces and investment items. When you splurge on staple items, you can be sure that you'll have a chic wardrobe that will always last. And then you can mix and match these pieces to create endless stylish outfits. Now if you're wondering what these wardrobe basics are and how to create endless outfits, then keep reading!
Up Next: Want the French Wardrobe Basics but Don't Know Where to Start?
French Girl Starter Wardrobe
How to Create a French Capsule Wardrobe for Spring & Summer
Minimalist French Capsule Wardrobe for Fall/Winter