Please note that this post may contain affiliate links and any sales made through such links will reward us a small commission – at no extra cost for you.
If you've spent hours scrolling through Instagram or TikTok, chances are you know just how easy it is to get bombarded with viral products. These apps have become mini online stores, so it's kind of hard not to exit the app without thinking you *have* to buy something. This can happen to anyone and though I'm all for things that spark joy, sometimes things can get out of control. If you want to minimize your clutter and maximize your budget, here are things to stop buying if you want to save money!
1. Loungewear
If there's anything that's exploded in the past few years, it's loungewear. At first, it made sense. We were all spending a lot more time at home and weren't prepared for it, in more ways than one. But what became getting a few new sets of comfy clothes for working from home quickly exploded into drawers stuffed to the brim with leggings, joggers, and matching sets.
While cozying up in loungewear feels amazing, you don't need to have an excess amount in your closet. I know a lot of brands are coming up with their own loungewear line, and it can be tempting to buy every color and design, however, if you already have several sets hanging in your closet, you probably don't need another one!
2. Glassware
Tiktokers love unique-looking glassware, especially those retro wavy-accent glass tumblers. And every time you go on Instagram, it seems as if every lifestyle influencer is linking to their aesthetically pleasing cups.
Now, I love aesthetically-pleasing glassware as much as the next girl, however, you don't need as much as you think you do. Because let's face it, they will most likely just end up sitting in your cabinets.
3. Workout/Athleisure Clothes
Now with athleisure being a fashion aesthetic in and of itself, gone are the days when gym clothes were just for the gym. And whether you're on Tiktok or Instagram, it's easy to feel like you need to buy every single collection to fit in, especially when this is the "it" style.
But you don't need to! If you already have workout clothes in your closet, you don't need 20 more sets to look like a casual girl or an Instagram fitness influencer.
4. Organizational Bins
By now you have probably seen those pantry organization videos all over social media. As aesthetically pleasing and inspiring as those videos are, they can make us feel as if our home isn't good enough unless everything is in a clear bin with a calligraphed label.
Though I would never tell someone not to organize and make it look good (I live for aesthetically pleasing organization myself), you do have to know when enough is enough. Make it look good…then keep it that way! If you want to save money, don't jump on every new organizational system and limit your stops to The Container Store.
And better yet, embrace a little bit of emptiness in your pantry. You don't have to fill every space with a woven basket. Keep your pantry stocked as the Parisians do: limit snacking and only have the essentials or your favorites stocked to avoid waste.
Related post: How to Get a Parisian-Themed Kitchen That Is Très Chic
5. Office Supplies (Stationary, Planners, & Notebooks)
If you are a stationery lover, I'm sure you love collecting beautiful notebooks, planners, and stationery to display on your desk. While this can be pretty to look at, the truth is that most people don't write handwritten notes anymore and it ends up becoming clutter and wasted money.
If you want to save money, limit yourself to not buying any new paper products until you've used up what you already have! Not only will this minimize the clutter, but you'll only buy something when there's a need instead of buying things whenever you feel influenced.
Or as another option, consider using a digital alternative like Google calendar. It's an effective tool to keep you organized. Plus, you can change the colors and design on the calendar to make it look pretty.
And when it comes to office supplies and especially those "Insta famous" products like translucent sticky notes, exercise self-awareness. Ask yourself, "Am I someone that actually uses and needs sticky notes?" For some people, that may be a yes. For others, trendy office supplies just end up being desk clutter.
6. Cute Water Bottles
Social media influence that encourages people to drink water? Now, that's something I can get behind. But what starts off as something good turns into something that makes you feel as if you need to keep buying stylish water bottles.
Buy a stylish water bottle (or a Stanley Cup) and stick with it until it breaks down. You'll save a good amount of money sticking with what you have instead of routinely cycling through different aesthetically pleasing options.
7. Nail Polish
In the beauty world, lately it's been the trend to recreate whatever nail look is the most popular. (Right now it's Hailey Bieber's glazed donut nails). Not only is it hard to keep up, but filling your makeup drawer with different nail polish (or visiting the salon) can get very expensive.
Unless you own a nail salon, you don't need to buy every nail polish in the rainbow. If you're looking to save money and prefer to do your nails at home, then consider paring back and keeping only your essentials on hand. Such as your favorite color for every season and a few neutral tones for year-round.
8. Peel-Off Face Masks
Peel-off face masks are a hit on social media. A lot of people believe that applying gold or holographic mask will make their skin better, but don't let the hype fool you. The face masks do remove some bacteria and debris, but that's about it.
Licensed esthetician Evie Reyna (via Insider) says, "Sad to say that the "peel-off" aspect which makes this mask type so fun and photo-worthy is the same reason this mask makes skin-care professionals cringe ever so slightly."
The mask strips away sebaceous filaments which keep the skin balanced. Certified clinical aromatherapist Kirsten King recommends not to use peel-off face masks because they risk removing too much sebum. And when you remove a lot of sebum, your skin produces a lot to compensate for the loss. And the result? Oily and irritated skin.
9. Beauty Tools
From a facial roller to a gua sha tool and even a light therapy mask, nothing quite takes up unnecessary space in your vanity like beauty gadgets. And I get it, it's tempting to jump on the latest thing if it promises to fix all your skincare concerns.
For some people, these beauty tools may actually work. And that's awesome! But for most of us, they end up being something we purchase, try out for a few weeks, then throw in the back of our drawer.
If you want to save money on things you don't really need, consider passing on these tools as they are not a guaranteed solution to flawless skin. Instead, focus your efforts on a quality skincare routine and save for professional facial treatments.
10. Blankets
If you're like me and you love cozy nights, drinking hot drinks, and snuggling up to watch a good show, then you probably collect blankets. Speaking to myself here, but you really don't need to have more than a dozen blankets. Not only do they take up space, but buying a new blanket every few months really adds up.
When it comes to blankets, prioritize quality over quantity. Spend the extra money on that one blanket that's big enough and cozy enough to make it worth it and stop impulse buying ones that aren't up to par or lose their coziness in the wash.
The Hype: "This item is an overwhelming hit with everyone that has received them!! They are so soft, so warm, wash well, when you buy one you'll regret not buying two!! If there is one "gotta get" purchase ever it is a Barefoot Dreams Throw item!!"

11. Lip Colors
You've only got two lips…so is having a lot of lip colors necessary? Not exactly. 😉 Sure, having rows and rows of tubes of lipsticks on display would look cute on your vanity, but most of the lipsticks will be unused and can take up a lot of space.
That said, to save money, narrow it down to your top favorites and the ones you wear frequently. And moving forward, consider not allowing yourself to buy any more until your existing tubes are empty.
12. Candles
These days everyone is obsessing over candles (myself included). From body sculpted candles to Diptyque candles, yes, they look good on a coffee table, but most of them go unused. Not to mention they can be pricey!
If they're used as decor, then to save money, ask yourself if your bookcase really needs another aesthetic candle. And if you actually do use them, wait until they've been used up to buy another. No more collecting!
13. Random Kitchen Gadgets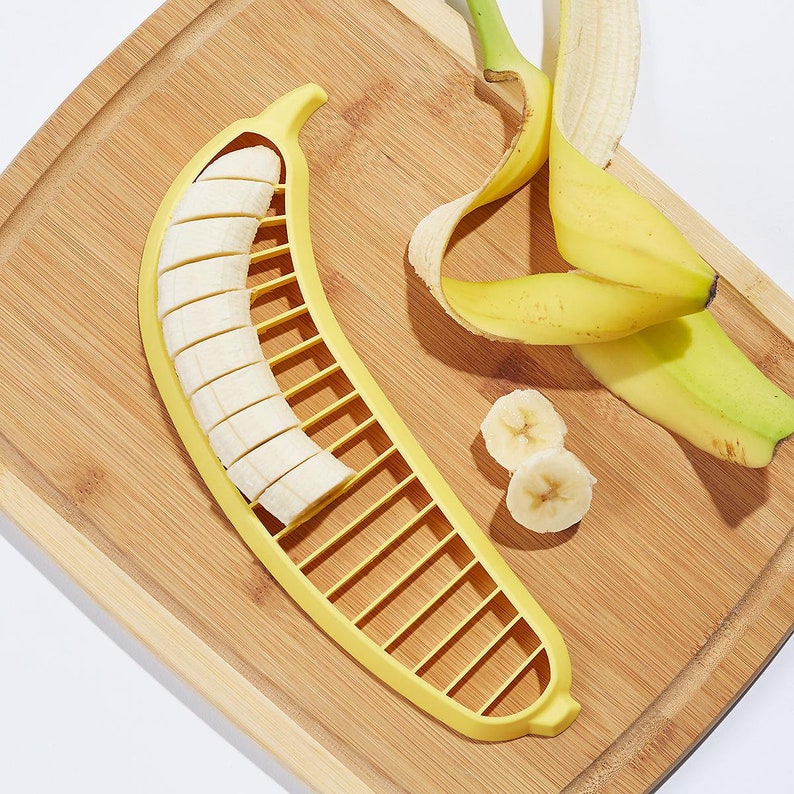 From a melon baller scoop to a banana slicer to an egg cooker, sure, these all look useful when you see them online, but then you purchase them and realize that they're clunky to use and take up much-needed cabinet space. Or you just forget you have them!
Just like beauty tools, certain kitchen devices can be handy and save time. But the problem is when you start collecting random kitchen gadgets that actually take up more mental space to remember to use when it may be faster to just do it yourself (banana slicer I'm looking at you).
If you want to spend money on kitchen devices, stick to the classics like a high-quality frying pan or versatile devices, like a grater that can grate everything from veggies to cheese.
And on the note of versatility, why not invest in one kitchen device that can do multiple things? This will allow you to save space and money.
The Hype: 4.6/5 "This is the best food chopper I've ever used! I have bought seven of these for myself and gifts. They are a must-have…"

By now we have seen so many viral product recommendations on Instagram and Tiktok. Whether it's butt sculpting leggings or gua shas, these apps have inspired us to spend money we need on things we don't. So if you're looking to pare back and save money, then reference this list!
For more money-saving tips, learn how to control your spending habits.
Up next: Is Your Shopping Getting Out of Control? Here's How To Get It Back on Track