Please note that this post may contain affiliate links and any sales made through such links will reward us a small commission – at no extra cost for you.
To love French country style is to love the delightful blend of warmth, natural materials, and chic style. If you are looking to add a bit of French country decor to your kitchen, then you'll be happy to hear that it's more than possible to give your kitchen a certain je ne sais quoi, without having to live anywhere near Europe. By adding touches of French style, you'll be able to turn your kitchen into the perfect place to be. From decorative items to pedestal tables, here you'll find the right french country kitchen furniture to add to your own home!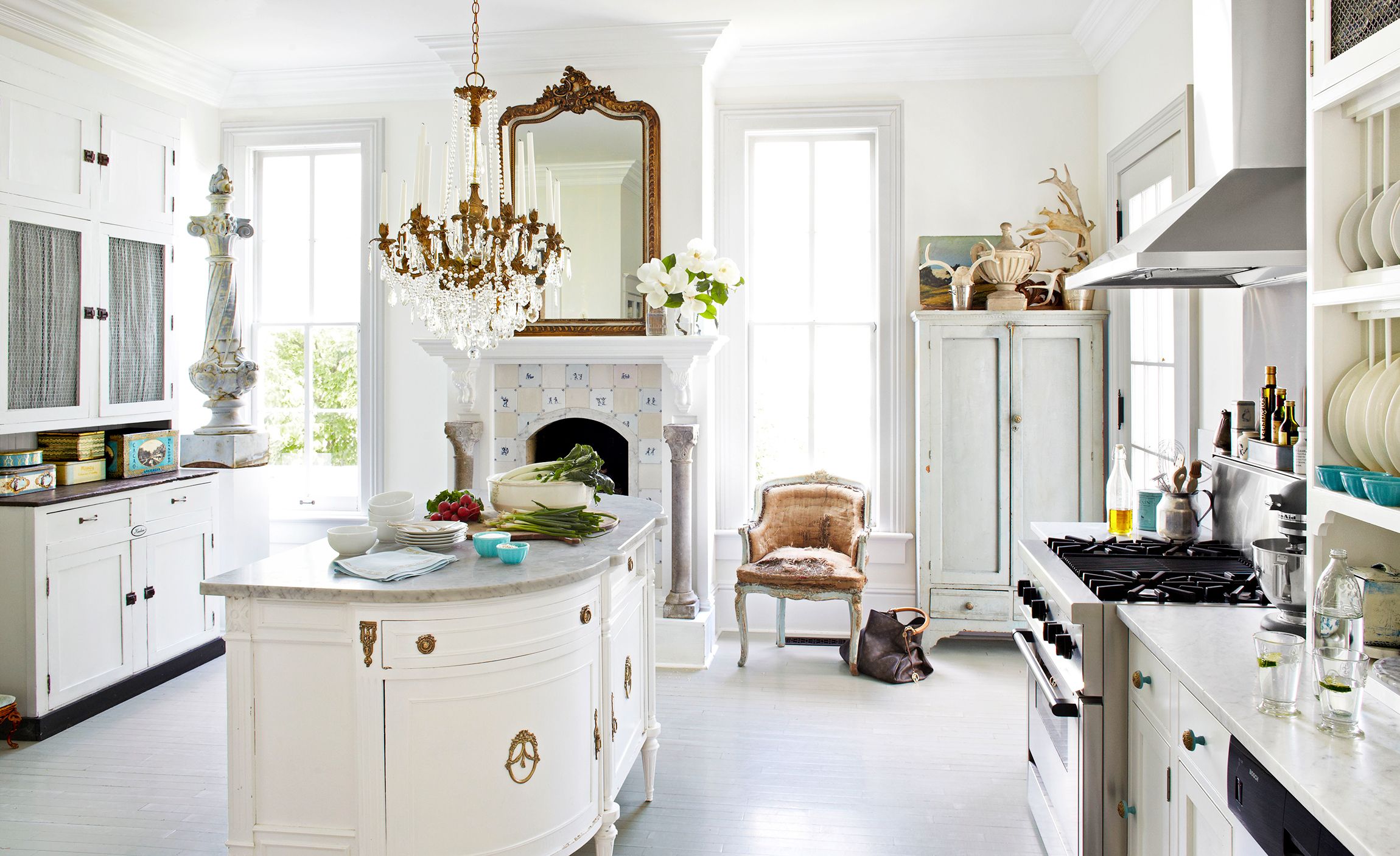 Before we get started on the furniture, it's best to start with the right foundation.
First, pick neutral colors and a subdued color palette to adorn your kitchen space. White walls are classic, but that's not your only option. Take inspiration from the French countryside, incorporating pastel colors such as soft blues, pale yellows, and sage greens. Think natural colors.
Many French kitchens feature a dark wood floor, though stone or terracotta floors are equally beautiful and popular. Even if you don't want to use real aged woods in the kitchen, you can still get the look with all the different types of flooring they make these days, such as wood tile, engineered hardwood, or LVP.
Okay, you've got the basics covered. Now, let's move on to the French country kitchen design!
French Country Kitchen Furniture
Dining Table
Most French country homes use a dining table in lieu of a kitchen island. A solid wood table is an integral part of your French country kitchen furniture, should you go that route instead of the traditional island.
A French country dining room furniture table is typically a large farmhouse style or trestle table. It can seat many people and has the appearance that it's a family heirloom, passed down for generations. Because it usually is!

If you can't give up your prep space, then for the best of both worlds, why not use an antique piece that resembles a table as your kitchen island? Not only do you get the function of an island, but you get the old-world charm of an antique piece as well!

Related:
How To Create a French Style Living Room
How I Gave My Bed a European High-End Look on a Budget & Other French Country Bedding Ideas
Our Budget-Friendly French Country Inspired Kitchen Reveal
Sideboard
A French country kitchen is sometimes an extension of your other spaces, such as your living room. Don't overlook the furniture you already have in your living room, as you'll frequently see antique-style pieces such as a hutch or sideboard in a French kitchen.
If you don't already have these, then you may find success scouring flea markets. Of course, if you can't find something old then buying something that already looks old is the next best thing! A dresser or armoire can add that French country charm to your kitchen as well.
Not only does it add country charm, but an armoire is perfect for pot and pan storage or as a makeshift pantry. It would make a great focal point as well.

Related: What is French Country Style? | The Difference Between French Country, English Cottage, & Farmhouse Style
Wood Bistro Dining Chairs
An English country kitchen might feature more wallpaper, floral patterns, and bright colors, even down to the dining chairs, whereas a French country kitchen will look a little more rustic. Go with solid wood or bistro dining chairs for that natural, weathered touch.

Related: How to Get an Authentic European Exterior
Copper Pans
Okay, technically not furniture, but your French country kitchen isn't complete without hanging pots and pans, specifically copper. Nothing quite says working, country kitchen like hanging ladles and pots. Natural, weathered style is another telltale sign of a European kitchen and real copper pots develop a gorgeous patina over time. Buy authentic when you can.


Open shelving
Now that you have some gorgeous pots, you need a way to showcase them! Used as early as the 18th century, open shelves are more than just decorative accents. They're also very practical, allowing you to see and access your pots, pans, and dishes quickly and easily.
Open shelving has become one of the top design trends lately and whether you want to embrace old-world style and stock them with useful dishes or go the decorative route and keep them neat and tidy, this is an element that's key to french country-style kitchens.

Range Hood
It is not very common to have floor-to-ceiling cabinets in a French country kitchen as you would in America. In fact, most French-style kitchens have no uppers and are left bare, besides a beautiful stone or tile backsplash, open shelving, and a statement range hood, of course.
A typical French kitchen usually features a statement range hood, usually made out of wood, plaster, or limestone. For a contrasting statement and modern touch, you could go with copper.
Natural wood or shiny brass, your range hood is the crowning jewel on your kitchen and an integral part of your french country design!

Incorporate these items in your kitchen and you may even fool yourself with how much it looks like you live in France! 😉
To dive even deeper into what a French country kitchen is like, keep reading!
Up Next: How to Get an Authentic French Country Kitchen