Please note that this post may contain affiliate links and any sales made through such links will reward us a small commission – at no extra cost for you.
Sometimes the weather doesn't always get the memo that it's spring. Figuring out what to wear during this "it's spring but doesn't quite feel like it" time is challenging. You want to wear your spring clothes, of course, but heading outside in skirts and sandals while stomping around in the snow could look just a little silly. So what do you do? Here are some practical tips on how to wear your spring clothes when it still feels like winter outside!
1. Mix florals with edgy pieces
Mixing your spring pieces with your edgier pieces is going to balance out your look and give you the perfect spring/cold weather mix.
Floral dresses with combat boots and motorcycle jackets are a perfect starter combination for this! Even if you don't have a floral dress (though you should), any material that is light and flowy will balance out nicely with dark, leather pieces.
2. Layer with white jeans
Black doesn't have to be totally out of the picture come spring, but white is a fresh color that works better for this spring season while still keeping your legs warm.
Layering up with lighter tones and pastels keeps your outfit looking fresh!
lightweight sweater // white jeans
3. Pair your shorter dresses with a long coat
If you have short skirts and dresses that you're anxious to pull out, you can still provide your legs with some extra coverage by pairing those pieces with an extra-long trench coat.
The long + short combination is not only a cool fashion juxtaposition, but it will keep you looking current with the weather instead of clueless!
dress // trench coat
Related: 6 Items To Pack Away for Spring (And What to Replace Them With!)
4. Balance your textures
Have a big comfy sweater you've been dying to curl up in? Balance out the cold weather staple by pairing it with a pretty spring skirt.
Chic, warm for the colder weather, and spring-appropriate all in one!
5. Wear your pastels
By decking yourself out in all the spring colors, it's going to be pretty hard for someone to think that you're still stuck in winter. Even if those pastel pieces are heavy sweaters, jeans, and thick coats!
6. Embrace your close-toed shoes
It might be time to pack away your furry winter boots, but there are still lots of great options to keep your feet warm while looking great for spring.
Booties, flats, sneakers, and heels (if you're feeling daring) make great options. Bonus points for a shoe that's in an eye-catching color. However, you can never go wrong with white for spring!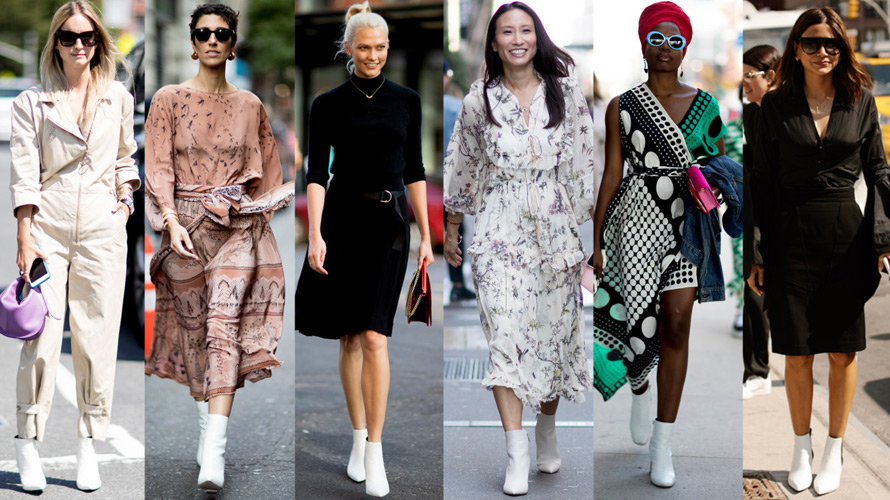 For more tips on dressing your best this spring when it's still cool out, check out these 4 Stylish Winter to Spring Transition Outfits!