Please note that this post may contain affiliate links and any sales made through such links will reward us a small commission – at no extra cost for you.
Open kitchen shelves are arguably the most classic and chic storage solutions for a kitchen. Not only can they make a small kitchen space look bigger, but the open shelving design offers a beautiful way of showing off your kitchen decor. If you're doing a kitchen remodel and want to get rid of bulky upper cabinets, the open shelving look is a great option for your new kitchen design!
To inspire your open-shelving ideas, I've rounded up kitchen open-shelving decor ideas as well as decorative items that will help you decide what kind of open shelves you need for your decor. But before you choose the best open-shelving decor, it's helpful to know even more benefits of floating shelves:
Easy Access to Everyday Items
Installing open kitchen shelving is a great way of having quick access to all your kitchen staples. If you're in need of a plate or cup, it's a lot easier to reach on a shelf than dig behind cabinet doors.
With closed cabinets, finding kitchen gadgets can take a little longer and unless they're perfectly organized, you might have to go through several cookware sets before you find your favorite white mixing bowl.
Accountability To Stay Organized
Having closed cabinets can sometimes make us lazy when it comes to keeping kitchen items organized- after all, no one can see how precariously stacked our kitchen pots are behind the cabinet doors!
But with an open shelf, you are forced to limit your kitchen gadgets and keep items organized since things are on full display.
Extra Storage in a Small Space
Small kitchens can pose certain complications when it comes to creating a functional space. Adding closed cabinets might make your cooking space look crowded or bulky, or you might not have enough space to install a standard-sized cabinet.
The good news is that open shelving can help you maximize storage space! Plus, they're also a great idea for those tricky, awkward corners.
Improves the Overall Look of Your Kitchen
An open shelf is a great feature if you want to elevate your walls and add a personalized touch. You can display matching jars, white dishes, flowers, or your favorite cookbooks- the list goes on. Open shelves break up all the closed storage and add so much style and personality to a kitchen.
Convinced to give it a try? Here are some ideas if you're wondering where's the best place to install your kitchen shelves:
1. Floating Shelves in Your Pantry
A kitchen is a perfect place for open shelving but it's not the only great option. Installing open floating shelves in a pantry is another great and useful idea if you don't want to commit to open shelving in your main cooking space just yet.
You can display glass jars of pasta, rice, and cereals, or you can store your linens in nice wicker baskets. Plus, shelves installed above lower cabinets create a beautiful contrast in the pantry.
2. Shelves Next to Your Range
Beautiful shelves installed next to a beautiful range will easily make this wall the focal point of your kitchen.
Shelving next to your range is a practical location because it makes your cooking must-haves like oils, spices, and mixing bowls accessible.
3. Install a Rail or Hooks Under Your Floating Shelf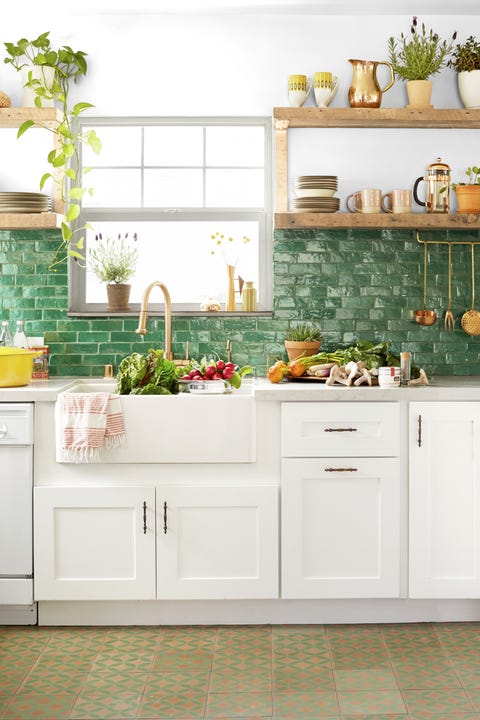 If your wooden shelves have some countertop clearance, install hanging hooks or a rail underneath your shelf. Installing this extra storage solution takes advantage of dead space in a smart and stylish way.
With S hooks you can hang things like mugs, garlic, ladles, whisks, and more. This is one of the best ways to maximize kitchen space!
4. Open Shelves Above a Wine or Coffee Bar
Are you a coffee or wine lover? Place open shelves above your bar to display your favorite collection of wine glasses or espresso cups.
You can also create easy access to coffee bar accessories like ground coffee, sugar, or stirring spoons.
Related: How to Design a Beautiful Small French Country Kitchen
5. Install Open Shelves in Awkward Corners
Have you been trying to figure out how to use that dead space or awkward corner in your kitchen? For situations where a cabinet doesn't make sense, give that unused corner some purpose by installing open shelves.
By utilizing open shelves, you can turn this once head-scratcher of a space into your new favorite corner. Display your favorite piece of artwork, a potted herb, and a stack of your aesthetically pleasing white bowls.
6. Use Open Shelves To Create a Cohesive Look
If you have a minimalist kitchen and prefer a streamlined look, install shelves that match the color scheme of your cooking space.
Go a step further and decorate the shelves with matching kitchen decor like neutral plates and ceramic jars for a cohesive and calming space.
7. Use Dark Stained Shelves to Pop Against White Tiles
Now on the flip side, if you want to create a striking contrast in your kitchen, choose dark shelving against white tiles or vice versa.
This styling technique can give your backsplash some new life! To create even more of a statement, opt for eye-catching brackets instead of floating shelves.
8. Place Your Floating Shelves Below Light Fixtures
Create a designer-worthy vignette by using a sconce or picture light to illuminate your shelves.
This style tip creates more interest and can make your open-shelf moment look intentional and become the dream focal point of your kitchen.
9. Opt for Glass Shelves
Glass shelves are insanely chic, especially when they are paired with brass bars. Plus, they have the ability to make your kitchen look spacious, airy, and bright.
This style is a nice break from your classic wood floating shelves and it's perfect for a bistro, French, or glam-style kitchen. You can stack elegant plates and cups for a beautiful finish.
Where to Buy Floating Shelves

Ballard Designs Glass and Brass Shelf



Cb2 Glass Shelf With Gold Rail

Now that you've found the best open floating shelves and placement, it's time to pick kitchen decor!
Kitchen Open-Shelving Decor Ideas
Cookbooks: Placing cookbooks on a floating shelf is a great way to give your kitchen a homey and warm vibe. Plus, having your cookbook easily accessible will make finding recipes a breeze.
Canning Jars: No gorgeous kitchen is complete without canning jars. They can store everything from dry ingredients to snacks.
Pots: Yes, kitchen open shelving can store large items like pots. If you are a proud owner of a high-end or copper pot collection, you can use open shelving to show them off!
Serving Platters: One perfect way to display serving platters on open shelving is by leaning them against the wall and placing something small in front of them.
Faux or Live Plants: Add some charm and tranquility to your open shelving with some plants. Whether the plants are live or faux, they're the perfect finishing touch and add a pop of color to open shelves.
Trays: Adorn your open shelves with a chic and classic tray. The right tray can create a beautiful visual display.
Decanters: Decanters are just too elegant-looking to be stored away in a cabinet. Place yours on open shelving and fill them with cooking essentials like olive oil or vinegar.
Spoon Rest: Most people leave their spoon rest on their countertop, but you can try a different decorating idea. Consider placing it on your open shelving instead.
Vase: A vase on open shelving? *chefs kiss* Adorn your chic vase with beautiful flowers to make it stand out even more.
Pitcher: Keep your kitchen decor pretty and practical by adding a copper pitcher!
Artificial Lemons: Add lemons to your shelving to splash in some vibrant and inviting colors. Pro tip: If you don't want to worry about your lemons going bad, opt for artificial ones.
Candlesticks: Create a sleek and sophisticated design by placing brass candle sticks on your open shelving.
Bread Box: If you are short on counter space, add your bread box to your shelf if it's wide enough. It will make your shelf look so unique.
Brass Decorative Bowl: Not only does a decorative bowl exude an elegant flair, but it's also the perfect decorative piece to store your faux fruits.
Tissue Box Cover: When decorating an open shelf, details make all the difference. For instance, a tissue box cover makes this household essential more charming to add to a shelf.
Coffee Nuts Canister: Don't keep your pretty coffee nut canisters locked away in a cabinet. Showcase them on your open shelving. It might just make healthy snack eating easier too.
Olive Oil Dispenser Bottle: Accessorize your open shelf with a sleek olive oil dispenser. Not only will it look so elegant on your shelf, but you will also have quick access to it when you want to drizzle your sun-dried tomatoes.
Brass Kettle: Add a vintage flair to your open shelving by decorating with an antique kettle.
Pepper & Salt Mill Set: Elegant salt shakers make all the difference. Their timeless shape will make your open shelf look so chic.
Cake Stand: Your cake deserves to be put on a stand. Add the stand to your open shelving for a beautiful display and take it out for your next hosting event.
Linen Kitchen Towels: Do you have linens that you want to display? Stack your favorite kitchen towels in a stylish basket for visual interest and easy access.
If you want to experiment with open shelving, you can start by just removing the cabinet door to see how you like it. But I have a feeling you'll love displaying your favorite decor because decorative items play an integral role when it comes to the look and feel of your kitchen design.
Use these kitchen open-shelving decor ideas to add the perfect finishing touch to your shelves. For even more eye-catching kitchen decor, here are 15 ideas to try!
Up Next: 15 French Country Kitchen Decor Pieces That Will Add Rustic Elegance