Please note that this post may contain affiliate links and any sales made through such links will reward us a small commission – at no extra cost for you.
When faced with the daunting task of remodeling a small kitchen, the most popular choice people make is to expand their kitchen space. The good news is that if you don't have the budget for a change like this, a smaller kitchen can still be beautifully redesigned without any expensive expansions. If you've been thinking of giving your small kitchen a French country style, keep reading for how to design a small French Country kitchen that is still beautiful yet spacious!
1. Ditch the Kitchen Island
A feature you will find in many modern American kitchens is a kitchen island. And though that feature is high on everyone's kitchen wishlist (mine included), why not try forgoing it?
Speaking from experience, a kitchen island in a small room can limit your space. Though it offers more counter space, it can make the room too cramped to walk around in. Plus, cooking in a small kitchen space can make you feel claustrophobic. The same can go for peninsulas in a small space because they obstruct a pathway for walking, making it feel like everyone is on top of each other.
But you don't have to be disappointed! You can still get a beautiful kitchen without a center island. Play it up with a tiny breakfast nook instead!
Use traditional furniture like a round table with rustic accents and two open-back chairs. To give your breakfast nook a French country flair, add decorative accents like flowers or a wooden bowl to your table.
This free-standing furniture is best for a small country kitchen because you can move your furniture around, therefore maximizing space for your French country-style kitchen.
Another great alternative would be to use a portable kitchen island. Since it's moveable, it will be more flexible than built-in kitchen islands.


2. Add Exposed Wooden Beams
One way to fake the illusion of more space in a small French country kitchen is by using exposed wooden beams. Farmhouse-style wooden beams help to draw the eye up to the ceiling. This creates the illusion of a larger room.
Not to mention, the natural materials of the beams add a touch of warmth while also elevating the look of your kitchen.
The wooden beams can be painted in a neutral color like white to achieve a modern French country kitchen and minimize visual constraints. However, if you prefer traditional French country kitchens, you can leave the earthy colors of the wooden beams.
Remodeling your small French Country kitchen on a budget? Consider faux beams! Not only are these more DIY friendly, but they cost significantly less scouting the flea markets or vintage shops for authentic wooden beams.

3. Install Large Windows
The more natural light you let in, the bigger your small French country kitchen will feel- and look! And if you're already planning on a remodel, now is the time to add as many windows as makes sense for your design.
For an authentic touch to your French country design, consider adding large French casement windows. They have an elegant design that will give you an unobstructed view of your garden.
Speaking of views, the perfect place to install these windows would be above the sink. Relocating a window can let more light into a French kitchen, not to mention the upside of having it above the window is that it makes the dreaded task of cleaning dishes more pleasant!
4. Add Open Shelving
Open shelves are a must-have in a small French country kitchen. They might have a simple design, but they make a big difference in a French-style kitchen.
The floating shelves are perfect for keeping French country decor like copper pots and most-used kitchen utensils away from the counter. If you are short on counter space in your kitchen, having open shelving will be the next best solution for you! Plus, you will have easy access to your cookware.
Most French country homes have kitchens with wooden shelving for a charming rustic look. They add a practical and beautiful touch to a small country kitchen.

Related post: 6 French Country Kitchen Furniture Pieces That Will Add Rustic Charm
5. Consider Remodeling for High Ceilings
If you can't remodel out, remodel up! When you are tight on space in a small French country kitchen, use a high ceiling to help the eyes travel upwards and make the room feel significantly larger. Most newer homes already have 9-foot ceilings, so if you are lucky to already have this feature, then accentuate the height with wooden beams.
Stuck with 7 or 8-foot ceilings? Raising the ceiling height is possible, though it's not a cheap task. Depending on the sentiment you have attached to your home and if you plan on being there long-term, it may be a valuable remodel that's worth doing.
This game-changing idea will help maximize space and allows you to easily install a French countryside range hood too!
6. Opt for Slimmer Kitchen Cabinetry
Bulky kitchen cabinetry can make your small French country kitchen feel cramped. One solution for this would be to replace the cabinetry with reduced base units. You can also install narrow storage to maximize your space.
For example, a slim pull-out pantry drawer is a brilliant way of storing your food, especially if you have no room for a mega-sized pantry.
Keeping your kitchen cabinet vertical and building up rather than out is a great way of making your small French kitchen feel as spacious as possible.

7. Add a Gilt Antique Mirror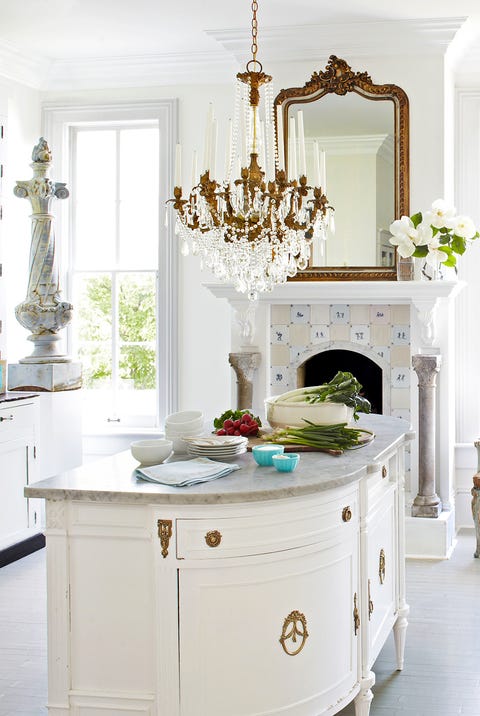 Not every kitchen has perfect lighting. Oftentimes, small kitchens barely get natural lighting, especially if it's not located on an outside wall. Thankfully, there are French country kitchen ideas that give you all the natural light you need.
Open up your space by hanging a sophisticated antique mirror in your small French country kitchen. A great place to hang this French kitchen decor piece would be on an unused wall or over a fireplace if you have one. You could even place it above the stove for something unique!

8. Choose a Neutral Color Scheme
Impart a sense of openness and brightness in your small French country kitchen with pale colors. The light hues will perfectly reflect throughout the kitchen, making it feel more spacious.
You can also bounce more light in your small French country kitchen by tiling an ordinary wall with a reflective backsplash like these handmade Zellige-inspired tiles that are all the rage!

9. Install Diagonal Flooring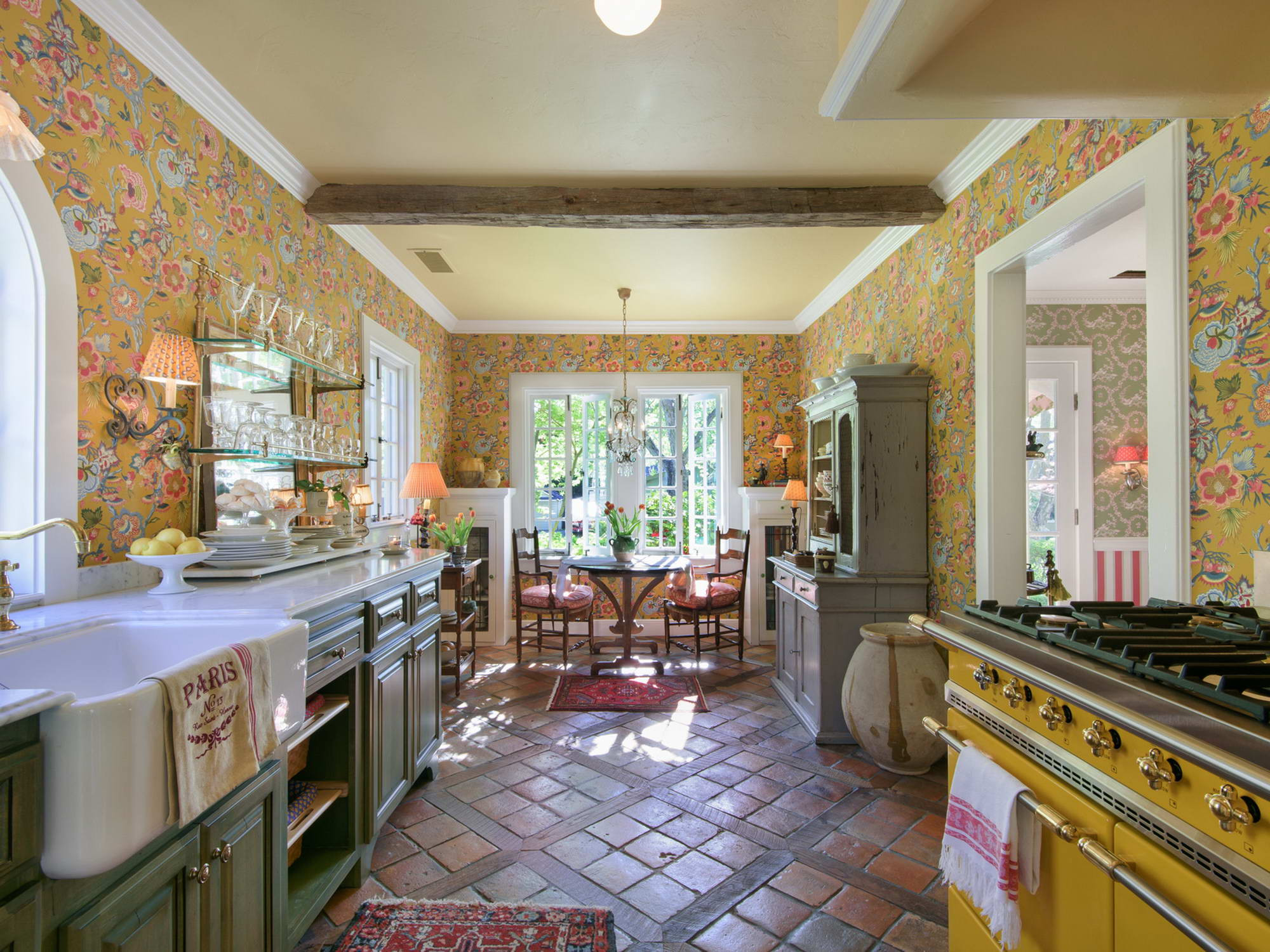 The perfect way to make a small French country kitchen feel bigger is by opting for diagonal flooring. The print draws the eyes lengthways, which creates the illusion of a longer and bigger kitchen.
Alternatively, larger floor tiles can also make a kitchen look bigger because there are fewer grout lines. A typical French country kitchen has the perfect blend of soft colors and pops of bold patterns. So don't be too shy to feature geometric patterns in your small French country kitchen!

10. Storage for Unused Spaces
Trying to figure out how to use dead space in the kitchen can be a daunting task. If you work with a kitchen designer, they usually know the best ways to organize your kitchen, such as creating a pull-out storage solution for utensils.
But whether you're designing your space solo or with help, it can be a great idea to incorporate a vintage cabinet for any awkward spaces or unused corners either way. Or even just to add a French country touch to your kitchen! You can use this cabinet to display your vintage pieces, such as your copper pans or your spices.

11. Copper, Brass, or Marble Apron Sink
Large farmhouse sinks look aesthetically pleasing, however, they can make your small country kitchen look smaller.
Consider adding a single apron sink in a natural material to your cooking space. The rustic element will pair perfectly with your white walls, but most importantly, it will give you more counter space!

Creating a small French country kitchen requires a clever approach. You have to work within limited proportions to get a French countryside look. And this can be challenging!
But just because you don't have a large kitchen doesn't mean that you can't get the French kitchen of your dreams! Just use one (or all) of these 11 ideas and you will be well on your way to designing a beautiful small French country kitchen.
If you want to elevate the look of your small country kitchen with decor pieces, check out these 15 French Country Kitchen Decor Pieces That Will Add Rustic Elegance!