Please note that this post may contain affiliate links and any sales made through such links will reward us a small commission – at no extra cost for you.
This past week I've been on bedrest (don't worry, all is fine) and I thought I'd get bored, but it turns out, it's pretty hard to get bored when now I finally get something I crave- uninterrupted time with my laptop to work on projects.
And just one way I've been using my bedridden time (when the pain meds kick in) is by scrolling through luxury real estate listings in Europe. I love doing this because every listing transports me to a different time and instantly has me daydreaming about a future vacation. Also, how cool would it be one day to buy an old chateau in Europe and fix it up? But most importantly, we're at the beginning of a custom build and I'll take all the inspiration I can get.
From Spain to Italy to France, ranging from 2 million to 40+ million dollars, I looked at so many houses until I fell asleep-literally. And throughout all my scrolling, I found top design details that these homes have in common that would be a nice touch to have in any home.
But before we go any further: don't get discouraged! Not all of us have the deep pockets to be able to replicate a 40-million-dollar home, but it doesn't mean that we can't incorporate some of these details while we renovate, build, or even do a modest makeover. Picking even just a few of the design choices on this list can instantly elevate your home and give it a high-end appeal!
21 European Design Features To Add to Your Home To Make It Look High-End
1. Exterior Made Out of a Natural Stone Material
Depending on where you are in your renovation process, you may not have the option to choose your exterior material. But if you're in the position to do so, then choose stone, stucco, brick, or if you've got the means, even marble!
You can never go wrong with a natural option if you want something that is high-end and timeless. For a unique and collected look, go a step further and even incorporate a few of these natural materials.
2. Arches Used on Both Exterior and Interior
What straight door openings and clean lines are to America, arches, details, and curves are to Europe. After viewing thousands of homes, I can confirm, there is no such thing as too many arches in Europe!
From arched openings to arched windows to arched built-in niches, a high-end European home has no shortage of this design detail and it's usually always done in a series, carried throughout the home.
Though many American homeowners are actually modifying their arched openings to straight ones for "clean lines", if this is the style you like, it instantly adds character and detail to your home.
3. Natural Flooring
LVP (luxury vinyl plank flooring) is becoming one of the most popular and talked about flooring choices in America. Durability with the look of wood, what's not to love? And though the world will always be divided on this (just like everything else), personally, I think a high-end home deserves something a little classier than plastic.
(By the way, this is not a discussion of what's more durable, what if you have kids or pets, or what about water damage, etc, but simply about what looks more luxurious.)
And in high-end European homes, natural materials for flooring are the best choice. From wood to limestone to slate and even marble, there are plenty of timeless choices that will patina beautifully and stand the test of time.
Related: 7 Timeless Flooring Ideas To Steal From Paris
4. High-Quality Finishes
High-quality finishes used in a high-quality home? Yes, I know I'm not breaking the internet with this revelation here, but you'd be surprised by how many houses look beautiful and grand on the outside, only to skimp on all the details on the inside.
From the marble slab backsplash to the stone floor to the marble bistro table and even to the sculptural banquette seating, nothing here looks cheap. (In fact, I spy a Smeg kettle and Kitchenaid mixer too.)
Of course, not everyone can or wants to afford "million-dollar" upgrades. The key is knowing what to splurge on and what to save for a look that still feels high-end and luxurious!
No one is going to know the brand of your faucet, so perhaps you can save on that (without skimping on quality) while splurging on floors and countertops- things that once installed, you'll probably never want to redo.
5. Manicured Landscaping
For a high-end home, you can't throw a few shrubs out in your front yard and call it a day. No siree. A luxurious home is not complete without a well-maintained landscaping plan.
And no, good landscaping doesn't mean that it needs to be an extensive courtyard, have a statement water feature, or be so large that you need to hire a full-time landscaping crew, but it does need to be intentional and match the style of your home.
As long as you're willing to get your hands dirty and put in the initial investment for plants and a few structures, good landscaping is something that everyone, no matter the budget, can have!
For a budget compromise, consider hiring out the landscaping plan through your local nursery or a company like Yardzen and doing the labor yourself.
6. Luxury Range
You know what luxury homes have in common? A beautiful, bold, show-stopping, probably-costs-about-as-much-as-a-car stand-alone range.
Luxury appliances are one of the best ways to make your kitchen look luxurious. Plus, I'm no realtor, but I know they have great resale value too. (Everyone wants a chef's kitchen, yet everyone orders takeout. Haven't figured that one out yet.)
A La Cornue French range is the "Cadillac" of ovens, but just in case you don't have 50-100k laying around, thankfully, there are several other similar options that can still give you the high-end look, such as Hallman, Cafe Appliances, Zline Autograph, and ILVE.
7. Custom Millwork
High-end homes are brimming with molding, paneled walls, wainscotting, crown molding, ceiling designs, and trim-you name it. All of these decorative choices add architectural interest and set a house apart from "builder basic" to "builder beautiful".
Plus, how chic does wall molding look set against beautiful flooring? You know a design is good when it looks beautiful before adding any furniture into a room.
And renovators, rejoice! This doesn't have to be a design choice made only when building a new home. It's an easy enough thing to add later. Plus, it's DIY-friendly too. But for the best outcome, consider hiring a carpenter if you're not so good with math and angles.
Related: How to Transform Your Room With Parisian Wall Paneling
8. Statement Range Hood
In a luxury home, you'd be hard-pressed to find the microwave/oven combo as you do in most American homes. Instead, choosing the right range hood is your chance to shine. And quite literally, if you choose a metallic or copper range hood.
When it comes to a statement range hood, you have so many options. You can custom-build one with drywall and finish it in plaster, make one out of pallets, or purchase one already made from Etsy. This is one of the easiest and best ways to completely transform the look of your kitchen!
9. Outdoor Entertaining Area
In a luxury home, the backyard matters just as much as the front. No high-end home is complete without an area to entertain outdoors. And since the majority of European homes don't have basements, they can create a beautiful indoor-outdoor flow for themselves and their guests.
From pools to outdoor wood-fired ovens to even a modest al fresco dining area, the level of luxury is up to you. You spent so much time and effort on your home, you may as well have a spot to sit down and enjoy it!
10. Little to No Upper Kitchen Cabinets
A European kitchen compared to an American one is different in many, many ways. And perhaps one of the biggest differences is the kitchen cabinets, or lack thereof.
It seems as if the more expensive your kitchen is, the less it looks like a kitchen. Bespoke tables take the place of kitchen islands and furniture-style bookcases, hutches, and open shelving take the place of kitchen cabinets.
Of course, having no upper cabinets is not a blanket statement for European kitchens, and it can even vary from region to region, but whether you're a fan of the style or not, you can't deny that very few upper cabinets make a kitchen appear larger and brighter. And the larger something appears, generally the more luxurious it appears too.
Related: 8 Parisian Home Decor Trends (& How To Get the Look)
11. Old Mixed With New
Just like in fashion, wearing designer everything screams "trying too hard". Renovating your home to look more high-end or luxurious does not mean pulling out all the stops to get the latest and best of everything.
Luxurious homes have mastered the art of contrast, mixing and matching, and pairing old with new. Take this bathroom as an example. Marble tile paired with a generous freestanding tub looks even better with the antiqued mirrored backsplash behind it. It gives the room character without looking shabby.
And sure, who knows, that antique mirror slab could have been a custom piece costing thousands, but the point is that it doesn't look new. In your build or renovation, find ways to mix antique and vintage items with your new and polished pieces.
12. Elevated "Boring" Details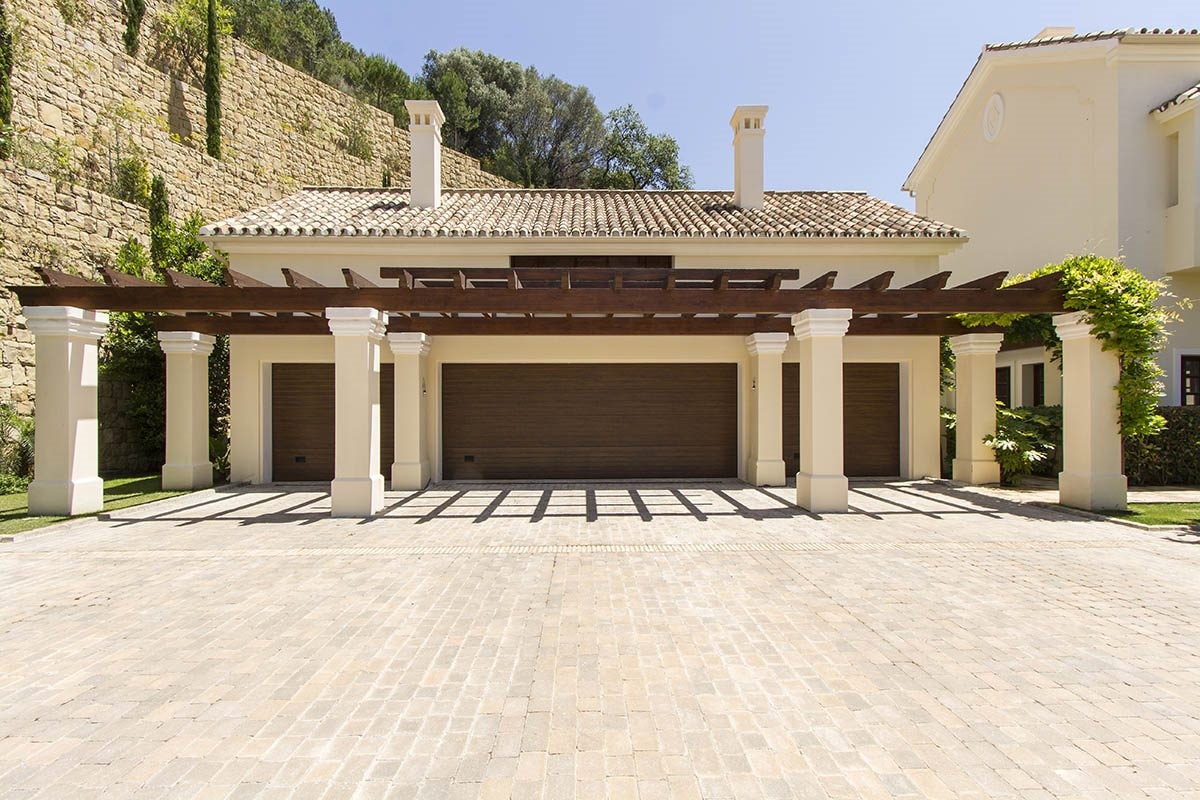 Things like garages, gutters, and mailboxes are not the most exciting things in the world, but a high-end home makes the most out of all these seemingly insignificant details.
Since you most likely are going to have a garage, why not go the extra mile and build a custom pergola over it? Now what's typically an eyesore has become a work of art.
And since every home has to have gutters, why not take the opportunity to add gutter boxes to elevate this necessary piece? The difference between a basic house and a high-end home is in all these little details.
13. Pillars and Columns
Just like wall molding, incorporating a few pillars when it makes sense is a great way to add even more architectural interest to your home.
These vertical design features don't take up much floor space and they're a great way to direct flow in an open floor plan, define a space, or announce the entrance of a new room.
And if you have the square footage, you can create oversized columns for an even grander statement.
Just make sure that you match the style of your home, as Grecian columns would look out of place in a modern farmhouse aesthetic, for example.
14. Stone, Plaster, or Marble Fireplace
Fireplaces are perfect for making a house feel cozy and lived in. And if you reside in the midwest, then they're a useful and very desirable feature as well. In a high-end European home, rarely would you find the "outdated" version of a fireplace which is usually a stacked ugly stone veneer, faux wood paneling, or fake marble tile. Instead, you'll find a stunning marble or stone-cast fireplace.
And though installing a working stone or marble fireplace is not cheap, it's not impossible to get the look either. If you don't want to hire a contractor to vent for a wood-burning or gas fireplace, then get the look by installing a real fireplace surround instead. You can still get the same look- who cares if it doesn't actually work!
The initial investment of this surround (ranging from 2-5k+) will transform and elevate the look of your living space.
15. Maximized Hallways
Many newer home plans these days try to eliminate the need for hallways because they're considered "wasted space". But depending on the size of your home, sometimes hallways are unavoidable (and necessary).
Whether that's carrying the architectural details throughout, adding windows, or even installing built-ins, luxe homes maximize every inch and don't treat hallways as dead space.
16. Luxe Drapes
From the height of where your rod should be installed to the length of your material, hanging window coverings is an art. And though I've seen it done in about every which way while studying these photos, I've always seen luxe drapes.
By this, I mean drapes that are lined, voluminous, look like they're made out of a natural material (possibly linen), kiss or slightly puddle the floor, and are usually installed in a tailored or pinched pleat.
The price of high-quality drapes will make you want to shed a tear, but it will always be worth it. Buy once, cry once!
17. Built-Ins
When something looks custom, it will always look high-end. And though maybe you can't afford to get custom built-ins for every room in your home (that would be a little overwhelming), maybe there's one room that you can hire out to get a bespoke look, such as a library, study, or living room.
And if you can't, then get your keys and hop in your car to the nearest Ikea. (Okay, maybe do a little planning first.) Because there are plenty of Ikea hacks out there where you can make these affordable, basic cabinets look custom-built. Just look at what ChrisLovesJulia did to their closet!
18. Symmetry
A good home designer or architect is trained in the art of symmetry. Not everyone uses or has the ability to use an architect, which is why this feature is usually missing in houses. Symmetry is one of those things that you can't exactly put your finger on why it looks so pleasing to your eye, you just know that it does.
According to scientist Alan Lightman, he says our need for symmetry is psychological because our human brains strive for order. Even if your house is already built and you can't add symmetry, you can fake the look through your decor, such as mirroring the same vignette or furniture set up.
19. Balance Opulence With Vintage
Too much elegance and your home may look like it should be an addition to the Palace of Versailles. Too much vintage and you've crossed over to flea-market-meets-shabby-chic. (Which if that's your vibe, that's fine, it's just not the vibe of this post!)
Luxury homes have learned to master opulence with vintage. In the photo above, a vintage printed wallpaper is offset with glamorous chandeliers. A rich green velvet sofa is in the same room as a grand piano. Luxe, opulent drapes are a fun pairing with a funky, floral chaise. High-end homes use every opportunity for style and learn to mix glamorous furniture with vintage artwork.
20. Layered Lighting
Home design experts say that every room should have multiple sources of light. And in these high-end homes, it's no exception.
From lamps to sconces to candles to overhead lights and in some instances, recessed lighting, a well-light home has layered lighting to fit every mood.
21. Courtyard Driveway
It's a missed opportunity to spend all this effort, time, and money on renovating or building a home only to overlook the driveway.
Just like landscaping, your front yard and driveway are the details that will set the tone for your home and tie it all together (or unravel it all).
Not saying every entrance needs to be grand or estate worthy, but it doesn't hurt to think this through ahead of time and do something special. It could be as simple as doing a stamped concrete design on your driveway or adding a driveway gate to installing a circle driveway complete with a courtyard in the middle.
We may not all have deep pockets, but even incorporating just a few of these luxury European features can instantly make your home look more high-end.
If you're curious about what some of the different European design styles are, then learn more in the next post!
Up Next: What is French Country Style? | The Difference Between French Country, English Cottage, & Farmhouse Style