Please note that this post may contain affiliate links and any sales made through such links will reward us a small commission – at no extra cost for you.
No doubt you've heard a lot about the "unkitchen" by now; a kitchen and cooking space that's not supposed to scream "kitchen". The goal of an unkitchen is to make it blend into the house and existing decor, using design styles such as a paneled refrigerator, hidden pantry door, open shelving, and furniture-like cabinets that store food and dishes. In an unkitchen, you would forgo things like a visible microwave and your typical row of box cabinets, all to streamline and elevate your home design.
So while the concept of an unkitchen is becoming widely known, what about an "undining" room? As I was researching this, I couldn't find anything. So let me come up with my own definition:
What Is an Undining Room?
An undining room is a multi-functional place that blends into your home decor and is an extension of your living space. Typically in a central part of the house, it's designed for family and guests to not only dine, but gather, play games, read, and relax.
Formal dining rooms, just like open concept layouts, are highly divided issues. You're either for it or against it. And for some families, a formal dining room just makes sense and is needed for their lifestyle.
But for others, a formal dining room can be an unnecessary use of space that could be better utilized for something else, which is why newer built homes these days are often opting for the dining nook over the dining room.
If you have an open or semi-open concept home and your dining table is near your living area, there are clever things you can do to make it blend in better. The benefit of embracing the undining room in an open concept home is that you can make your living space appear larger, as your dining room is an extension of what's already there instead of creating a visual break in your sight lines.
And if you already have a formal dining room, embracing the undining room maximizes your space, allowing you more freedom and opportunities to embrace this room, since most formal dining areas go unused the majority of the time.
First, here's an example of what a typical formal dining room looks like:
Pretty. Grand! It looks like a great place to host functions here. But it also looks very "showy" and I get the feeling that it stays like this the majority of the time, while "real" family life happens over on the kitchen island.
And now, here's a typical example of a dining room in an open concept:
Most new homes have a layout like this and there's a lot of good to say about the convenience of having the dining adjacent to the kitchen! But your eye stops and registers them as two different spaces, potentially making them look smaller rather than if they were blending together.
Okay, let's get to some "undining" inspiration ideas from houses currently for sale in Europe that you can implement to blend this space into your home better!
1. Study
You almost don't notice that round table in the back! A space like this makes me want to curl up with a book and sit down at the table to journal my thoughts. And then when it's time to eat, you can remove your reading material, pull up a few extra chairs, and debate philosophy with friends over your home-cooked meal.
2. Sunroom
Though this table is extravagantly set, it feels like a cozy sunroom with oversized windows, a fireplace, and an accent chair. Because the space isn't large, it's delightfully cozy. And after enjoying a meal, you could easily sit in front of the fireplace to enjoy an after-dinner decaf coffee.
3. Study Table
Though this table is an extension of the living room, with plush chairs and a unique lamp, it almost feels like a study table. This is the perfect medium-sized table to either enjoy a meal, catch up with friends, or pore over some books.
4. Make It Disappear With an Acrylic Dining Set
Want to make your dining set disappear? Or at least not be as noticeable? Then opt for an acrylic set. It has a modern look if that fits your style, but most importantly, it doesn't draw attention if you're trying to make your dining area blend into your open concept home.
5. Den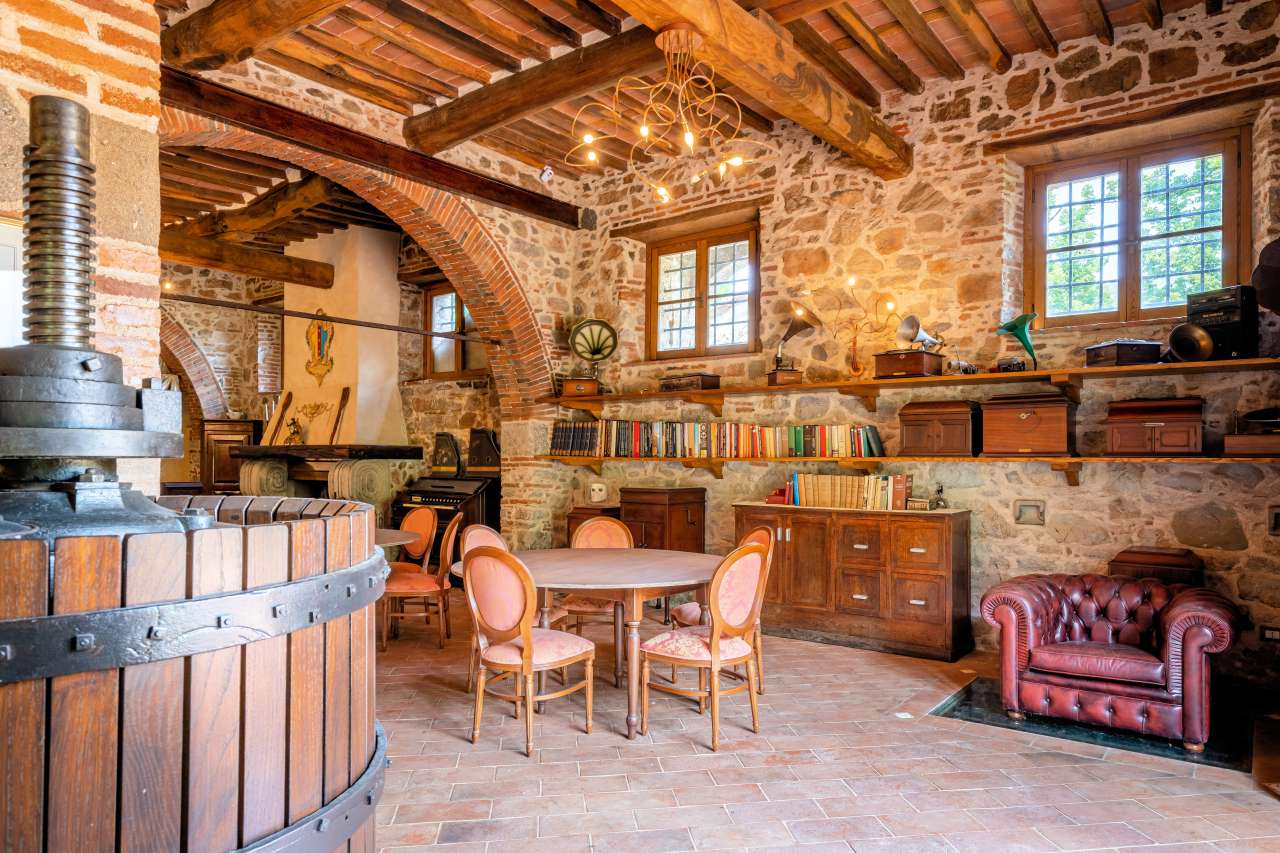 With rich architectural details, a leather chair, a sideboard table, and rows of books and treasures, this space feels more like a den than it does a dining room. You can easily recreate this look if you have the space for a comfy chair, a sideboard, and lots of shelves for books.
6. Library
One of the best (and most common) ideas to make your dining room feel less like a dining room is to combine it with a library. Even though this dining room leans more toward formal because it has walls separating it, it feels like a space you could use for more than just holidays. With rows of books and plenty of storage, this can be a place where you can work on homework or write that next novel.
7. Extension of Your Living Room
If your home isn't large enough to house a separate room for a dining table, then you can easily make it look intentional and not overwhelming by combining it with your living area. The key is choosing a simple space-efficient table (oval or round) and matching the wood tones that are already in the space. Go a step further and define the area with a small rug.
Related: 7 Timeless Flooring Ideas To Steal From Paris
8. Define Your Space With Bookcases
Though this dining room has its own space, it has many purposes too. Not only can you enjoy a meal, but thanks to the bookcases and comfy reading chair in the corner, you can also plop down to get lost in a good book while gazing out your balcony. Now, that's what I call double duty!
9. Tea Room
Drink cart, dresser, fireplace, chairs..there's a lot going on here. But all of these extra details make it feel as if you could be doing lots of extra things in this room! Whether it's sitting by the fire or serving up a hot pot of tea, this dining area serves many purposes.
10. Eat-in Kitchen
Many European homes place their table in the middle of the kitchen and though that may not go over very well for many Americans and their love for big islands, it's an option worth considering. This can foster intimacy with your guests as they can be with you while you work and it encourages the kitchen to be the heart of the home. But for others (myself included), I know someone watching me work would give me a lot of anxiety!
11. Sitting Room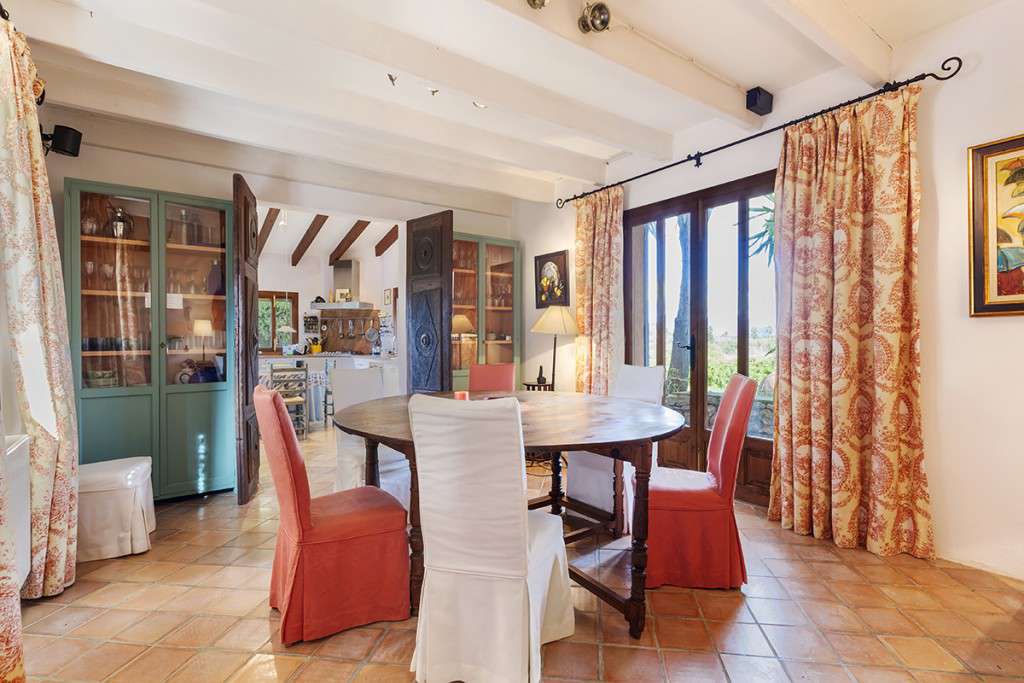 With the casual round table, slip-covered chairs, cozy lamp, and built-ins, this space seems more like a sitting room than it does a dining room. When you're eating as a family, you have a cozy atmosphere to enjoy a meal. And when meal time is over, you can use the sitting room as a place to relax and recharge.
12. Writing Room
One way to make your dining table blend in is to pair it with matching furniture. This hutch and sideboard make it seem like it could be a writing area in a family space, instead of a formal room that never gets touched. Here you could do anything from eating to catching up on your correspondence!
13. Simple Oval Table
For some families, this quaint setup could work. A simple oval table that seats 4 is enough space for a small family without being so big that it takes up much-needed space in an open-concept home. By matching the flower arrangement that is in the living room, it looks like a continuous seating area that flows nicely.
14. Add Living Room Furniture to Your Table
Adding living room furniture around your dining table is one of the best ways to make your dining room feel like an extension of your living space. If you have room for a settee or even a couch, it's going to make your space feel all kinds of functional and cozy.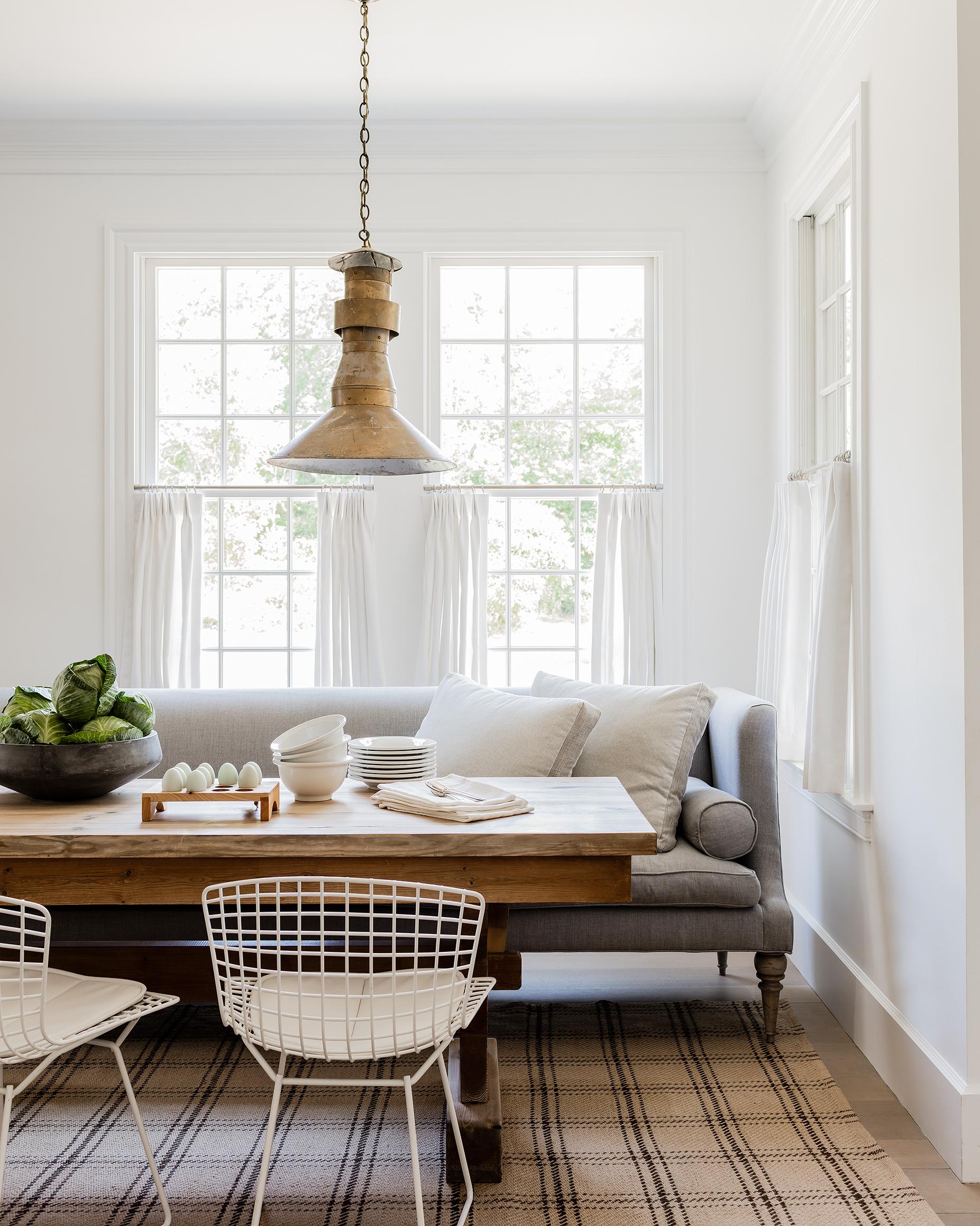 To pull off the undining look, here are a few things to keep in mind:
Instead of opting for a large, big farmhouse-style table, choose something more space efficient, like a round or oval table. If you frequently host people, be on the lookout for a table that extends.
A huge statement light over the dining table only draws attention to it. If you want it to blend in or seem like an extension of your living area, then select something on a smaller scale or forgo the light altogether.
If you have the space, add a reading or accent chair in the corner. Incorporating furniture makes it instantly feel cozier and more like a living space.
Match the same wood tones and styles that you have in your living room so it seems like one long continuation.
Get upholstered chairs, slip-covered chairs, or a dining banquette settee to put around the table.
Going back to the first example of the open concept home:
A few things that I would try to do is carry the same style of white cabinetry over and make a sideboard of sorts. This would appear to make the kitchen larger and connect the two spaces.
If keeping the farmhouse table was a must, then I would switch out the rows of chairs near the window for a dining settee in the same color family or aesthetic for continuity's sake. Then you can push the dining table closer to the wall, allowing for more foot traffic and visual white space.
Ignore my rudimentary mockup. I never did learn to use photoshop. But then again, I never did really learn calculus either and that turned out okay for me…
So there you have it-those are my two cents! Take them or leave them. I'm not an interior designer, but I have renovated 2 houses, lived in 4 throughout my adult life, traveled throughout several European countries while focusing on the architecture, and now I'm currently building my own house, so I have picked up a thing or two.
And once again, nothing is wrong with that space (or formal dining rooms for that matter). And the open concept look is not too far off from the one that we're currently building, but my goal was to inspire those who are wanting something a little different.
Decorating any house is a challenge and an open concept layout presents some new ones as you want the space to feel defined, yet not boxy. By using these tips of helping your dining area to continue into your living space, you are one step closer to having a house with flow.
Up Next: What is French Country Style? | The Difference Between French Country, English Cottage, & Farmhouse Style