Please note that this post may contain affiliate links and any sales made through such links will reward us a small commission – at no extra cost for you.
Gigi Hadid, Bella Hadid, Kendall Jenner, Taylor Hill, and Hailey Baldwin; what do all of these women have in common? Well, besides being supermodels who are super successful, they have all mastered that cool girl street style that looks effortless and unbelievably chic. Now, while you might not have a stylist on speed dial as they do, there is an easy solution to master the off-duty model look. Today, we'll be breaking down some of the best "model off duty" looks from your favorite models, along with an "ingredient list" for you to recreate each of these stylish outfits.
---
7 Model Off Duty Looks You Can Master Now
1. sweatshirt + moto jacket + dark skinny jeans + boots or sneakers
So, it's pretty clear that models are the queens of the street style scene. After all, they can make even the simplest thing, like a gray sweatshirt, look super cool. The secret from taking this basic piece from frumpy to stylish is leather accents like a leather moto jacket. A sleek leather jacket adds the perfect amount of edgy style and looks modern and cool when layered over a hooded sweatshirt. Add cool boots, black skinny jeans, and a black leather tote and you have the perfect cool casual look.
Top Models: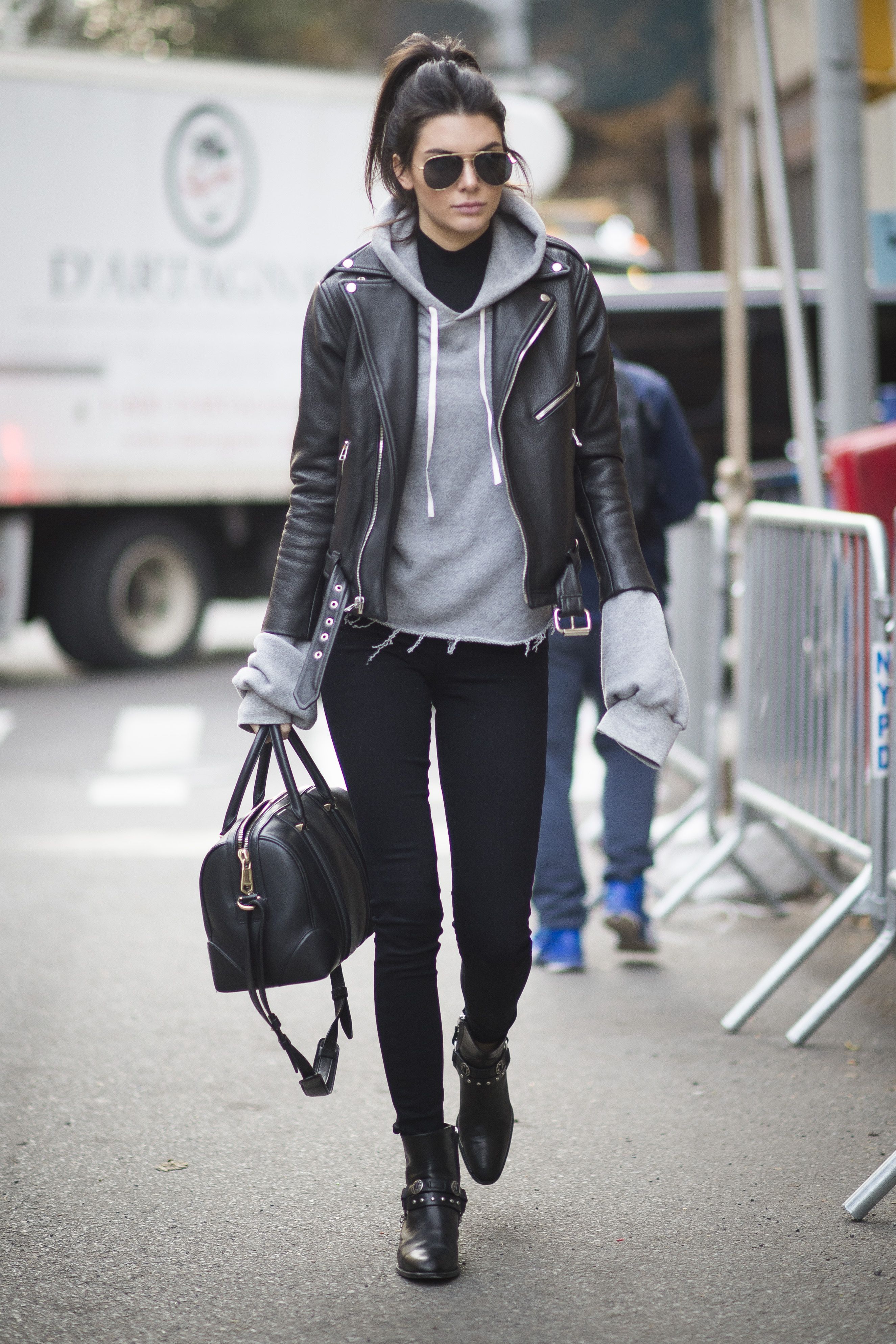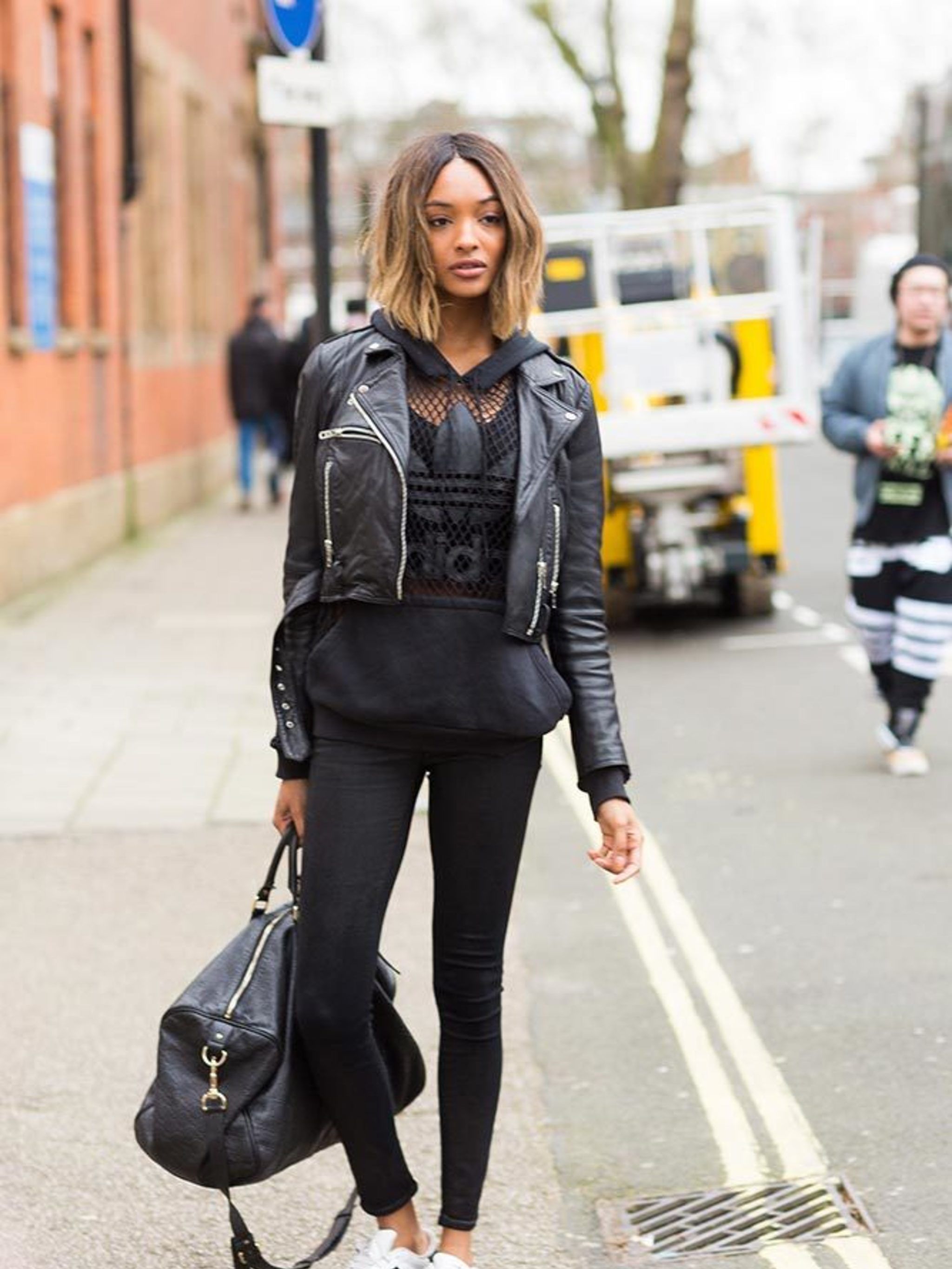 Your Closet:


shop similar outfit deets: moto jacket | sweatshirt | jeans | boots | backpack
2. sweater dress + long coat + over the knee boots
This is yet another seemingly plain look that off-duty models always style to perfection. Just like with the last outfit, a great piece of outwear will take this look to the next level. Statement coats are a favorite in the New York fashion world in particular, and runway models seem to agree! A pair of over-the-knee boots are perfect for pairing with a short sweater dress and will provide some extra warmth during those chilly fall and winter days.

Top Models:
Your Closet:


shop similar outfit deets: dress | otk boots | kimono
3. simple/graphic tee + moto jacket + black leggings + sneakers + aviators
Our leather jacket makes a reappearance for this next look – it's clearly a favorite for the model crowd. Pairing a white shirt with a leather jacket, sneakers, and black sunglasses will instantly upgrade a pair of black leggings and make for a fab athleisure outfit. Athleisure is definitely a key element to the off-duty model look. Simply throw on a great piece of outerwear, add some accessories, and you have yourself an easy and modern on-the-go look.
Top Models:



Your Closet:

shop similar outfit deets: tee | moto jacket | leggings | sneakers
4. basic tee + high waisted jeans + moto/black jacket + sneakers
Have you been noticing that a lot of these model's favorite looks are pretty simple, which just goes to show that looking good doesn't have to be complicated. High-waisted jeans are a nice break from your same old skinny jeans! And, of course, you can't forget the models' favorite way to add some edge to their outfits – a leather jacket! Related: Denim Styles to Try that Aren't Skinny Jeans

Top Models:



Your Closet:

shop similar outfit deets: tee | moto jacket | jeans | sneakers
5. long white tee + sweater + leather leggings + ankle boots
You've probably noticed by now that off-duty model style is all about layering! Wearing a long white tee under a sweater makes for a unique look, while the addition of leather pants and a cozy sweater add texture and interest. All around, this is a perfect go-to look for fall. Related: 20+ Super Cute Fall Outfits

Top Models:

Your Closet:


shop similar outfit deets: white tee | sweater | leggings | boots
6. bodysuit + high waisted jeans + ankle boots
Here we are with the high-waisted jeans again! Although we're not all in possession of a 24-inch waist, high-waisted jeans look great on just about everybody! They're waist-sinches and are especially flattering with a belt. Add a black top for a stylish street style look, or use my favorite styling trick and go with a sleek black bodysuit! A bodysuit is perfect for creating the look of a perfect tuck without any extra effort. You can find them in a tank top, turtleneck, or ever off-the-shoulder form like the one Kendall Jenner is wearing below.
Top Models: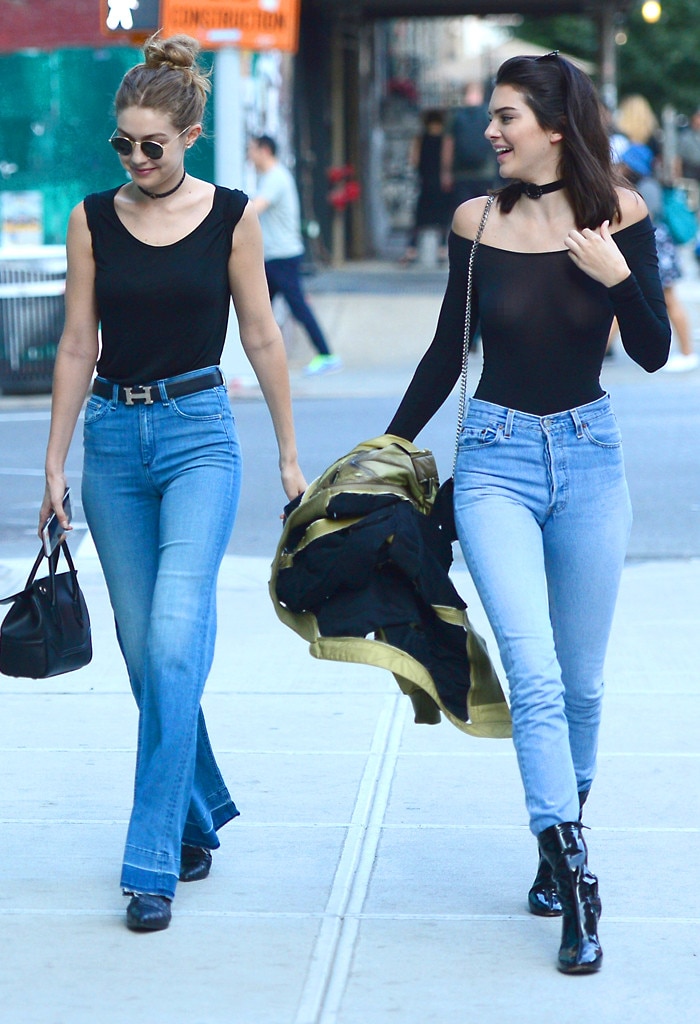 Your Closet:

shop similar outfit deets: bodysuit | belt | mom jeans | boots
7. graphic tee + denim shorts
Even the most stylish amongst us know that a graphic tee and denim bottoms are a great go-to casual look. It's effortless, easy, classically stylish, and makes for the perfect warm-weather look! You can switch out the footwear for boots, sandals, or sneakers depending on what vibes you want to give off that day and add accessories like bags, jackets, and sunglasses to customize your look to your heart's content. If you're feeling like switching things up even more, you can even go for a denim skirt! Related: 6 Ways to Wear Your Denim Shorts

Top Models: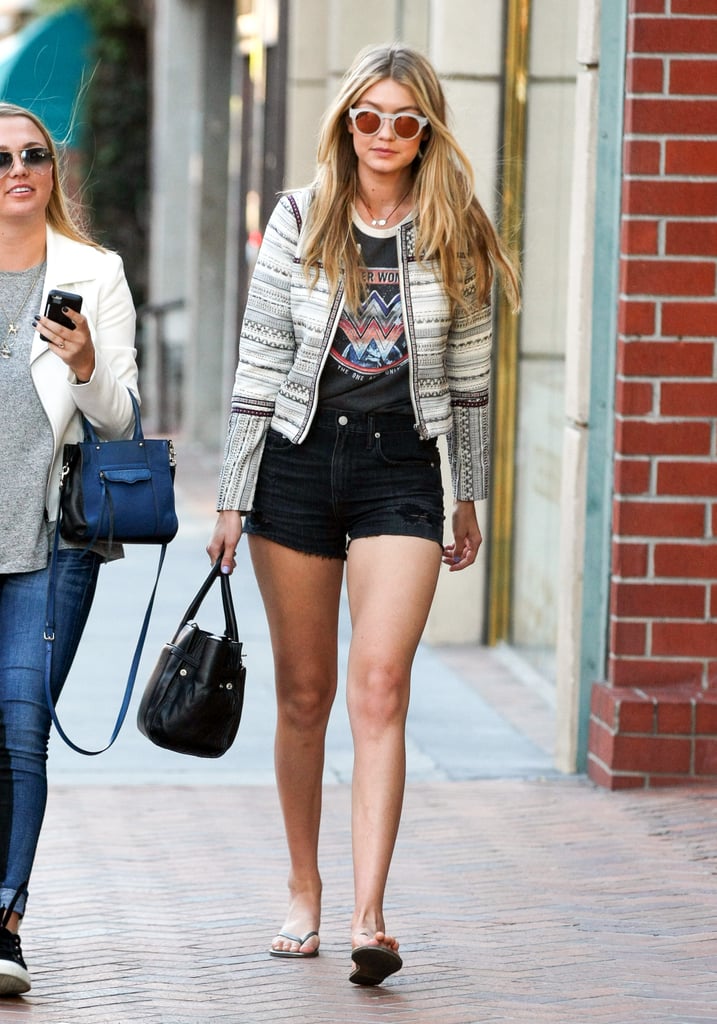 Your Closet:
shop similar outfit deets: top | denim shorts | sneakers
Although we can't all be models with their tiny waists, long, long legs, and huge bank accounts, these outfits are easy to pull off for everyone. With a few simple basic items and creative styling, you'll be whiping up your own off-duty model looks in no time!
Through my very important fashion model research ( ;P) I've found a common theme of what models wear for their off-duty looks and it usually comes down to this: leather leggings, ankle boots, black leather jackets, high waisted jeans, crop tops, statement belts, and designer bags. And while not everyone has the $$$ to spend on a closet full of designer handbags, I share plenty of tips for upgrading your look in my how to look expensive post. This will allow you to look luxe without dropping mad cash (and sometimes with no cash)!
Just because those items make up the model off duty look, it doesn't mean you have to wear them all (I passed on crop tops). Pick and choose what you want for a look that's uniquely yours!
Related Fashion Posts: