Please note that this post may contain affiliate links and any sales made through such links will reward us a small commission – at no extra cost for you.
Our bathroom is a hot mess, you guys. I'm not afraid to admit it…though I am a little embarrassed to show you pictures!

We finished our exterior about a month ago and once it was completed, we took a break and did pretty much nothing (house related that is).

I wasn't even totally sure what our next project would be. Not for lack of things that need to be done, that's for sure. But more unsure of what to prioritize. I mean, our dishwasher is leaking. Our laundry machines are super gross. Our bathroom is ick.

Sigh.

When I start focusing on all the negatives it's really easy to get down. I can't let myself stay here and instead, I have to focus on things that I do like about my home and things that I can easily change! And with some relatively easy and low-cost fixes, I can change our icky bathroom.

If you saw this post then you'll see the original vision we had for our master bathroom. And now it's changing…slightly.

We sat on these plans for about 6 months and decided not to go ahead with them. I still have the same vision and style, but it will not be on such a grand scale.

The reason?

Because that bathroom (tearing down walls, taking from the other bathroom, lining everything in marble, putting in a claw foot tub, etc) is a dream home forever home kind of change.

When faced with the facts of what I want, it's simply not a husband and wife DIY job. It would be a crazy big and expensive transformation and when forced to think it through, it wasn't something I wanted to do in this house.

We plan to be here for a bit, but we don't plan to be in this house forever. My absolute dream location is a wooded lot and yes, I want to make the most of wherever I'm at, but I'm not ready to do "dream home" changes until I get that land quite yet. 🙂

Sure, having a bathtub in the master bathroom would be amazing. But I don't think I'll mind sharing the bathtub with Will (in a manner of speaking) until he becomes a teenager. And guess what? We most likely won't be here when he's a teenager!

So all that being said, I'm glad we sat on this reno idea and didn't do anything with it yet. Some things I'm sure about and we move full steam ahead and I have no regrets. Some things you have to think about.

Now, I'm sharing some updated, more specific bathroom plans. I'm so ready to have this bathroom not feel gross anymore!

As a reminder, here's what we're working with:
Le sigh.

Just in case you couldn't tell (ha ha), we have not done anything design-wise to the bathroom. All we did was rip out the carpet (because ick) and paint the subfloor. We had the white on hand from painting my office floor but ugh, not a great choice. A white floor that is hard to clean in a bathroom is just icky.
Now, my tentative plans.

I want to work with the ledge behind the toilet and add crazy amounts of storage above the toilet. Storage is my #1 need! The bathroom is small and there's really no other good place for storage (and definitely no room for an armoire), so above the toilet it is.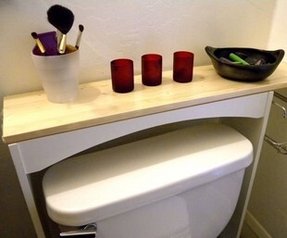 I want a new vanity with-you guessed it-storage! I'd especially like to find something with lots of countertop space. It's a pain when I get ready because there's very little space and my makeup keeps falling in the sink.

Boo.

First world probs.

I don't think a bigger vanity can actually happen though, because the space allocated for it is so tight.

We are also toying with the idea of Titus building one. I love wood and then we can get the right size and add more shelves if we want. Plus, I think a bowl sink gives a very spa-like vibe. And my makeup wouldn't fall in the sink!

It would also be really cool to find a vintage dresser or table! I do have an antique dresser in my kitchen used as an island, but I want to take that one to our next house.
Hmm what else.

Obviously the wallpaper borders has gosta go. As well as the floral curtains.

It needs a fresh coat of paint. I'm boring, and I just want white. 😉

For the floor, we have pretty much landed on going with a porcelain tile. We actually did browse Lowes and Menards already and found some that we thought were pretty cool.
I would love to find a cool mirror. I've found my best ones secondhand so I hope to go thrifting in hopes that I can find something that looks antique.

I actually did buy a new light about 2 minutes ago haha. I know that a light will make a drastic change. I mean, the round light + mirror combo just screams dated!

Here's what I bought:
We'll see how it comes together with everything else! If it doesn't work, it will be easy to return.
If you caught glimpses of the shower in the photo then you'll know that the color is pretty ugly. It will most likely need to be retiled…one day. That's not a concern of mine for now.

Overall, the bathroom is small and cramped. As well as the shower. Titus doesn't actually even shower in our bathroom because it's so tight. He uses the guest room downstairs. Now I know I shouldn't complain because I'm lucky to have this bathroom, but I don't want to set you up for some big dramatic makeover. There's just not a lot to work with. 🙂
But of course, you can do little things here and there that spruce up the whole place!

Here are some other photos that inspire me:
I'm not planning to do anything crazy. Just something nice and simple as well as add personality and charm. I still want my country + warm + glam feel!

Stay tuned! And check out my other home projects in the meantime: